Teriyaki chicken is an irresistible Japanese delight! Who doesn't like chicken that is crispy on the outside with juicy, tenderness on the inside. Add to that goodness, a savory, flavorful teriyaki sauce that the chicken has been marinated in. With an air fryer, imagine preparing and cooking the chicken within minutes with minimal cleanup and you have yourself a winner with my air fryer chicken teriyaki recipe.
What is Chicken Teriyaki?
Chicken teriyaki, using either chicken breasts or thighs, is simply cooked chicken that has been marinated in teriyaki sauce for at least 5 minutes up to a couple of hours. Some prefer the white meat of breasts, while others prefer using the thighs which tend be more tender. Its sweet and tangy taste from the sauce always delivers a big hit!
What is teriyaki sauce made of?
Teriyaki sauce is a dark, bold sauce that is both sweet and salty. Its primary ingredients include soy sauce, brown sugar, garlic, ginger, honey and mirin.
Our recipe calls for your favorite store bought teriyaki sauce, but if you are feeling ambitious you can make homemade teriyaki sauce in less than 15 minutes.
How do you cook chicken teriyaki in an air fryer?
Preheat the air fryer to 380 degrees F. Trim the chicken into bite-sized pieces and marinate the chicken in a bag with the teriyaki sauce and diced onions for at least 5 minutes in the refrigerator. I prefer to marinade the chicken up to a couple of hours. Lightly spray the basket with oil. Next place the marinated chicken pieces in a single layer in the air fryer basket and cook for 8 minutes, turning each piece over at the halfway point. Chicken should reach an internal temperature of at least 165 degrees F. Sprinkle with sesame seeds as an option, and serve over white rice.
Is teriyaki chicken healthy?
Chicken is a good source of protein and other nutrients, but the teriyaki sauce is high in sodium. Cooking teriyaki chicken in an air fryer is a healthier cooking technique since only a little olive oil is used. Consider pairing the chicken with nutrient-rich vegetables and side dishes. You may want to eat teriyaki chicken in moderation, since high sodium diets are linked to chronic conditions like heart disease and stroke, unfortunately.
Can you use frozen chicken to cook chicken teriyaki in an air fryer?
Using frozen chicken in this air fryer chicken teriyaki recipe is not recommended. It's simply because the marinating process is not as effective with frozen chicken. You want the marinade to fully coat and soak in to the skinless chicken and if the meat is frozen, it just can't happen until the chicken thaws a bit. Keep in mind chicken meat does thaw fairly quickly so hopefully you have the time to thaw a bit prior to marinating the chicken. In any other general chicken dish, you can use frozen chicken when cooking in an air fryer, it's just not as good when marinating the chicken first.
What temperature do you use to cook chicken teriyaki in an air fryer?
The air fryer will be set to 380 degrees F for best results.
How do you know when chicken teriyaki is done?
Following the time recommendations of our recipe, the chicken will be done in 8 minutes. Using a digital meat thermometer, test the internal temperature of a couple of pieces of chicken. They should be 165 degrees F. If not, cook for another minute being careful not to overcook. If you don't have a meat thermometer, cut into a piece of chicken, it should not be pink and the juices will run clear when done.
Is it safe to eat rare chicken in chicken teriyaki?
It is not safe to eat rare chicken. Check for doneness when following our recipe, the internal temperature should reach 165 degrees to be considered done and safe to eat.
How do you reheat chicken teriyaki in an air fryer?
Set the temperature to 380 degrees F and place the cooked teriyaki chicken in the basket sprayed with a tiny bit of olive oil. Only cook for about 2 minutes to reheat, being careful not to cook the chicken any longer. If you reheat the chicken too long it will most likely dry out the chicken.
Can you freeze chicken teriyaki after cooking it in an air fryer?
Definitely yes! Just cool the cooked teriyaki chicken to room temperature then put it in an airtight freezer bag. Place the chicken in the freezer and it will safely keep for up to 2-3 months without damaging the taste.
How long can you safely store chicken teriyaki after cooking?
You can safely store cooked teriyaki chicken in the refrigerator for up to 3 days, but no longer. The taste tends to deteriorate if you store it any longer.
What sides go well with chicken teriyaki?
I recommend serving teriyaki chicken over white rice or fried rice, quinoa or noodles. Other sides that go well with this recipe are coleslaw, stir-fried veggies, eggplant, steamed or roasted broccoli and carrots.
Does chicken teriyaki get tender in an air fryer?
The simple answer is yes, it will get very tender when cooked in an air fryer. Thighs sometimes taste a little more tender than breasts due to their dark meat. Don't overcook as that always changes the texture of the chicken.
Tips to making great chicken teriyaki in an air fryer:
Save some of your teriyaki sauce and warm it up while the chicken is cooking so you can slather it over the cooked teriyaki chicken. It's so delightful!
Once you feel comfortable making this beginner's recipe for Teriyaki chicken you can always make your own teriyaki sauce using soy sauce, brown sugar, rice wine vinegar mirin, sesame oil and minced garlic. Mirin can be found in the ethnic aisle of your grocery store. It is a common Japanese ingredient. I personally love Kikkoman Teriyaki Sauce, you can find it in your grocery store, and I think you will love it too.
Chicken breasts or thighs can be used in this recipe, depending on your personal taste. I find the dark meat in thighs to be a little more tender than the white meat of breasts. If you usually prefer white meat I would stick with chicken breasts for this recipe. For others who prefer the tenderness of dark meat, chicken thighs are great too. Also chicken thighs are a little less expensive than chicken breasts.
For us garlic lovers, add a little fresh, diced garlic to the marinade.
If you want to enhance the flavor of your teriyaki chicken just marinate it longer. It all depends on how much time you have.
Cover the bowl of chicken pieces when marinating and keep in the refrigerator.
Try not to touch or overlap the pieces of marinated chicken in the air fryer basket.
Use tongs to turn the bite-sized pieces of chicken over.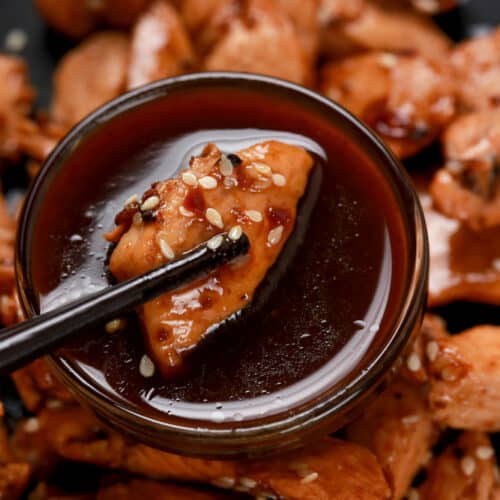 Air Fryer Chicken Teriyaki
Delicious Teriyaki Chicken made in an air fryer with your favorite teriyaki sauce is a huge hit with kids all the way up to grandparents! This simple Air Fryer Chicken Teriyaki recipe will be a family favorite for all the right reasons:  it's easy, it's savory and flavorful, and it's a healthy version when cooked in an air fryer.  You will want to keep this recipe close at hand!
Ingredients  
2

lbs

boneless, skinless chicken breast or thighs

cut into bite size pieces

3/4

cup

of your favorite teriyaki sauce

1/4

onion

diced
Instructions 
Preheat air fryer to 380°F

Trim chicken and cut into equal sized bite size pieces

Combine chicken pieces, teriyaki sauce and onion in a bowl or 1 gallon ziplock bag

Let chicken marinate for at least 5 minutes (a couple of hours would be ideal)

Lightly spray air fryer basket with olive oil

Place chicken in the air fryer basket in a single layer

Air fry for 8 minutes, turning the chicken halfway

Check that chicken is properly cooked with a meat thermometer (165°F internal temperature)*

Serve over bed of white or brown rice (optional: garnish with sesame seeds for traditional look)
Notes
*If you do not have a meat thermometer, remove the largest piece and cut in half. If still pink in the middle, add 1 more minute at a time until all chicken is cooked properly and safe to eat.
Nutrition
Nutrition Facts
Air Fryer Chicken Teriyaki
Amount per Serving
% Daily Value*
* Percent Daily Values are based on a 2000 calorie diet.