What is creme brûlée?
Creme brûlée is also known as "burnt cream" in French, or even Trinity cream. It is originally considered a French dessert that has a creamy, pudding-like baked custard base and is topped with a very thin layer of crunchy, caramelized sugar. The traditional creme brûlée tastes like a rich mixture of vanilla and caramel since these are two dominant flavors we enjoy.
Why you will love creme brûlée cooked in the air fryer:
What makes creme brûlée so fun to eat is the contrast it gives us in each indulgent bite. With the edge of your spoon, crack the paper-thin layer of caramelized sugar on top in order to get to the rich and creamy custard below. The sweet, crunchy topping and the pudding-like custard below are unique and so flavorful you can't help but smile with each bite.
What is so special about creme brûlée?
When you order creme brûlée in the fanciest of restaurants, it's a dessert that says romance and elegance! It appears to be a french dessert since its name means "burnt cream" in french, but we are not so sure of its true origins. Recipes have also been found in England and Spain dating back many centuries. Creme brûlée became very popular in America in the 1980s. Despite its origins, the original recipes remain the best! We feel our recipe stays close to the original and will not disappoint.
How many calories does a serving of creme brûlée have?
A small serving of our creme brûlée recipe has just under 150 calories of pure flavor.
What you will need to cook creme brûlée:
In our recipe, you will need an air fryer, a medium sized bowl and pan, a wire whisk, small ramekins (usually white bowls with straight-up sides, not rounded), an oven mitt, a small culinary torch, milk, eggs, light cream, sugar and vanilla.
How do you cook creme brûlée in an air fryer?
Add milk, egg yolks, light cream, and vanilla together and whisk till uniform. Heat to simmer in a pan on low heat, and stir in some of the sugar to dissolve. When sugar is dissolved, pour into ramekins and preheat the air fryer to 375 degrees F. Cook for 25-30 minutes, shake it gently while it is still in the air fryer with an oven mitt to make sure it is set. Let it sit on the counter until it has reached room temperature, sprinkle the remaining sugar evenly on top and caramelize it with a culinary torch. Enjoy!
What temperature do you use to cook creme brûlée in an air fryer?
Your air fryer will be set to 375 degrees F.
How do you know when creme brûlée is done?
You will know when the creme brûlée is done by following the time requirements on our recipe and gently shaking the ramekins using an oven mitt to make sure it is set.
Is creme brûlée eaten hot or cold?
Traditional creme brûlée is served cold. If you like it this way, just place in the refrigerator for about 30 minutes just before serving. Don't go longer than 30 minutes since the thin sugar crust may begin to soften.
Can you reheat creme brûlée in an air fryer?
Reheating creme brûlée is not recommended since the dish is served cold. The servings are usually on the small side depending on the size of your ramekins, so we can't imagine you having any leftovers of this flavorful, creamy and rich dessert.
Can you freeze creme brûlée after cooking in an air fryer?
For such a delicate, exquisite-looking dessert, you can freeze the custard base only of the creme brûlée, if needed, for a few weeks but not over a month. It is recommended to leave the creme brûlée in the original ramekins before freezing. Cover the creme brûlée in foil or cling wrap, then place in a resealable airtight plastic container. When you are ready to enjoy, thaw the frozen creme brûlée in the refrigerator overnight or about 12 hours. There is no need to reheat. Complete the recipe by adding the thin layer of sugar and caramelizing it with your culinary torch.
How long can you safely store creme brûlée after cooking?
Creme brûlée has dairy products in it, so it has a short shelf life in the refrigerator. It will only stay fresh for 2-4 days in the refrigerator without risking changes in its fabulous texture and flavor.
Tips to make a great creme brûlée in an air fryer:
Use good, high quality dairy ingredients and pure vanilla.
Use a whisk to whip the egg yolks with the sugar. Your goal is to get air into this mixture and help to dissolve the sugar to insure a silky texture to the custard base.
Use heat on the low setting on the stove when heating the ingredients to make sure you do not burn them.
Remove any air bubbles after whisking or heating. Just take a spoon and slowly stir to remove any air bubbles. If bubbles rise to the top it's easy to skim them off with the spoon.
Try to put the same amount of uncooked custard into each ramekin to assure they all cook the same. Otherwise, some may cook too long, while others don't cook long enough.
After cooking, cool the creme brûlée completely to room temperature before putting the sugar on top and using the culinary torch to caramelize it. In fact, you can even place the ramekins in the refrigerator for at least 4 hrs, or even overnight. Cover each ramekin with foil or plastic wrap to prevent them from drying out in the cooling process.
Lastly, do not burn when caramelizing the thin layer of sugar. This is a gentle process to melt and caramelize the sugar. Keep moving the torch's flame in small circles. If you hold the torch for too long in one spot the sugar will burn and will taste bitter and burned. Move the flame constantly and quickly for a beautiful and elegant, golden color.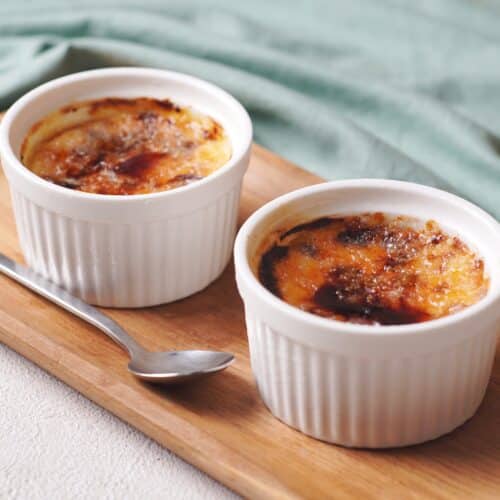 Air Fryer Crème Brûlée
Who knew the air fryer could perfect a classic French dessert? My recipe for air fryer crème brule makes any home cook look like a professional pastry chef in minutes!  Five ingredients, a pan, and ramekins placed in the air fryer guarantee restaurant quality crème brule desserts in mere minutes! Caramelize the tops with sugar, garnish, and impress your guests, all from your kitchen! Voila!
Ingredients  
½

cup

milk

2

egg yolks

⅔

cup

light cream

2⅔

tbsp

sugar

granulated

1

dash

vanilla extract
Instructions 
Add the milk, light cream, egg yolks and a few drops of vanilla extract to a bowl and whip uniformly.

Heat to simmer in a pan on low and stir in 1⅔ tbsp of sugar to dissolve.

Once the sugar has dissolved, pour into ramekins. Preheat the air fryer to 375°F.

Cook for 25-30 mins. Using an oven mitt, test that it is set by gently shaking.

Bring to air temperature.

Sprinkling the remainder of the sugar evenly across the top.

Caramelize the layer of sugar using a small culinary torch.

Enjoy!
Nutrition
Nutrition Facts
Air Fryer Crème Brûlée
Amount per Serving
% Daily Value*
* Percent Daily Values are based on a 2000 calorie diet.