Air fryer zucchini chips are the perfect guilt-free snack! They are a simple and healthy alternative to traditional potato chips, making these crunchy chips excellent for dieters. Prepped in 10 minutes and air fried in less than 20 minutes, these snacks are irresistible!
Are air fryer zucchini chips healthier than regular potato chips?
Because you can control the amount of salt in homemade air fryer zucchini chips, and cooked with only a tiny amount of oil, they are much healthier than traditional potato chips. Potato chips have little nutritional value, lots of salt, fat, and calories. Zucchini is packed full of vitamins, minerals and antioxidants. It has high fiber content, yet is low calorie. Since fiber is so important in digestion, eating zucchini can limit a variety of gastrointestinal issues.

What tools are needed to make air fryer zucchini chips?
Zucchini chips can be made in the air fryer with an air fryer and mandoline or vegetable slicer.
What is a mandoline used for in cooking?
A mandoline, or mandolin, is a cooking utensil that can be used to cut firm vegetables like zucchini and potatoes into thin slices. It is also callled a vegetable slicer. It is usually made of wood, metal or plastic and has blade fitted horizontally into it.
What ingredients are needed to make air fryer zucchini chips?
Zucchini
Apple cider vinegar
Salt
Garlic powder
Oil spray
How do you make zucchini chips in an air fryer?
Use a mandoline to thinly slice the zucchini.
In a bowl, mix the zucchini slices with apple cider vinegar.
Spray the air fryer basket with olive oil.
In a single layer, add the zucchini chips to the basket. Don't overcrowd.
Set the air fryer to 375 degrees F, and air fry for 15  minutes, flipping halfway.
Remove the zucchini chips to a cooling rack and sprinkle with salt and garlic powder.
What temp do you use to cook zucchini chips in an air fryer?
Zucchini chips air fry at 370 degrees F for a total of about 18 minutes or until they reach the desired crispness.
How do you get the moisture out of the zucchini chips prior to cooking?
Zucchini holds a lot of water and it is important to get the moisture out before cooking in the air fryer. Lay the sliced, uncooked zucchini chips in one layer between two sheets of paper towels. Gently pat them to get any excess moisture out of each zucchini slice. Getting the moisture out ahead of cooking will help them to get crisp in the air fryer.
How do you know when zucchini chips are done?
At 375 degrees F, zucchini chips are done after about 15 total minutes of cooking time. They should be flipped once during cooking, and some chips may cook faster than others depending on the thickness of the slices. You may remove any zucchini chips early if they seem to be cooking faster.
Can you use a frozen zucchini to cook zucchini chips in an air fryer?
Freezing zucchini can be a good way to extend its shelf life, but it is not recommended freezing a whole zucchini prior to cooking it. Raw zucchini gets watery and soggy after freezing. To freeze zucchini, it needs to be chopped and blanched first.
How do you keep a zucchini fresh?
Prior to slicing and cooking a zucchini, you can store the vegetable in the refrigerator for about a week. Do not store on the counter. Keep the zucchini whole, unwashed, and dry, and place it in an opened paper bag for ventilation. Avoid storing in plastic which can trap moisture and make the skin slimy. If the skin starts to shrivel, it is time to slice and cook the zucchini.
Can you freeze zucchini chips after cooking in an air fryer?
It is not recommended to freeze cooked zucchini chips. Instead try adding the leftover zucchini chips to a salad, spaghetti dish, or a veggie burger.
How long can you store zucchini chips after cooking?
You can safely store cooked, leftover zucchini chips after they have cooled. Place the chips in an air tight bag and store at room temperature for up to a week.
How do you reheat zucchini chips in an air fryer?
Zucchini chips are best eaten right after they are made. If you must store them, cool to room temperature and store in an airtight container at room temperature. When ready to reheat, set the air fryer at 350 degrees F and air fry for 2-3 minutes until crisp again.
What sauces and dips go well with zucchini chips?
Ranch dressing or dip
Dill dip
Hummus
BBQ sauce
Ketchup
Tips to making great zucchini chips in an air fryer:
Using apple cider vinegar is optional, but adds a nice bite to the air fryer zucchini chips.
It is very important to remove any excess moisture from each zucchini chip prior to placing in the air fryer basket. Place a single layer of zucchini chips between 2 sheets of paper towels and pat gently.
While cooking check the zucchini chips often and shake the basket. If some of the chips are done, remove them and continue cooking the rest. It's easy to burn these thinly sliced zucchini chips.
After air frying is complete, place the zucchini chips on a cooling rack for a few minutes while you sprinkle with seasonings.
Other seasonings to use are onion powder and fresh green onion, ranch dressing seasoning mix, fresh rosemary and sea salt.
Use a mandoline to cut the zucchini slices very thin and evenly, it's so much easier than slicing with a knife. The thinner the slices the better!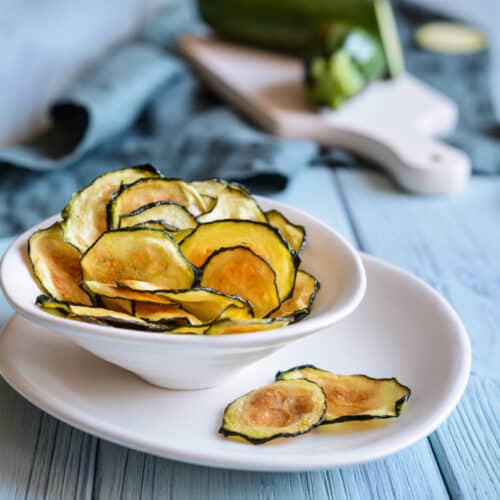 Air Fryer Zucchini Chips
The best way to eat zucchini is this simple and irresistible air fryer recipe way. A great alternative to traditional potato chips, these guilt-free air fryer zucchini chips are lightly seasoned and oh so crispy!
Ingredients  
3

cups

zucchini

thinnly sliced

1

tbsp

apple cider vinegar

1

tsp

seasoned salt

1

tsp

garlic powder
Instructions 
Slice the zucchini into thin slices (a mandoline works great if you have one)

Combine/toss zucchini and vinegar in a mixing bowl.

Spray air fryer basket with olive oil.

Place zucchini chips in a single layer in air fryer basket.

Cook/air fry at 375°F for 15 minutes, flipping halfway.

Remove from air fryer basket and lightly season with season salt and garlic powder before serving.
Nutrition
Nutrition Facts
Air Fryer Zucchini Chips
Amount per Serving
% Daily Value*
* Percent Daily Values are based on a 2000 calorie diet.