Don't want to heat up the kitchen but have a craving for cornbread? The air fryer is a perfect way to whip up and bake cornbread and use the oven for something else if needed. There's aways a good occasion to serve moist air fryer cornbread. It's simple and convenient and can be ready to serve in about 35 minutes!
What is cornbread?
Cornbread is a simple bread made with cornmeal. It is often associated with southern food (the cuisine of the Southern United States) and has its origins in Native American cuisine.
Can you air fry cornbread?
Yes! Air fryer cornbread is our favorite way to cook cornbread.
What is cornmeal?
Cornmeal is the main ingredient in cornbread. It has a vibrant yellow color and creates a light and crispy crust when fried or baked. It's made of yellow corn that can be ground from a fine to a course texture. Most of the cornmeal we find in the U.S. comes from "dent corn" and has a high starch content and crumbly texture. Cornmeal is gluten-free since it is made with dried maize. Read the labels, though, because traditional cornbread recipes may contain gluten.
Step by step directions to make air fryer cornbread:
Preheat the air fryer to 360 degrees F.
Coat the baking pan with a small amount of butter.
Mix flour, cornmeal, baking soda, baking powder, and salt in a bowl.
In a separate bowl, blend the beaten eggs, buttermilk, and melted butter.
Combine the buttermilk mixture with the cornmeal mixture
Pour the batter into the air fryer safe baking pan and place the pan on the 1-inch rack.
Air fry at 360 degrees for 25 minutes.
What time & temperature do you use to air fry cornbread?
To cook cornbread in an air fryer, set the temp to 360 degrees F and air fry for 25 minutes.
How do you make cornbread moist?
If your recipe turns out dry or crumbly, you can try a few of the following techniques to moisten your cornbread:
Add an extra egg to make it less crumbly and more cake-like.
Replace half of the buttermilk with sour cream or plain yogurt (preferably greek).
Replace the eggs with mayo (3 tablespoons of mayo per egg).
Use a little less flour or cornmeal.
Use a different brand of flour.
Use buttermilk.
Add a little more cooking oil to the batter.
Use fine-ground cornmeal rather than a medium or coarse grind.
Add a pat butter to the top when you remove it from the air fryer.
Do you put eggs in cornbread?
Yes, including an egg or two in the cornbread batter will allow it to hold together better and not be so crumbly, and the cornbread will be more moist. Too many eggs can make your cornbread have a cake-like texture.
How do you know when air fryer cornbread is done?
Air fryer cornbread is done when the top of the cornbread is a rich golden yellow or light brown and when a toothpick stuck into the middle of the cornbread, comes out dry. A good temperature and time for baking cornbread in the air fryer is 360 degrees F for 25 minutes.
What is the difference between regular cornbread and Southern cornbread?
Regular cornbread has a more crumbly texture is made with less sugar and eggs. Southern cornbread uses more eggs and buttermilk and has more of a moist, cake-like texture. Cornbread has always been a southern staple because of how prominent corn is in south.
Why does my cornbread fall apart?
If you find your baked cornbread falls apart, you may be adding too much flour or cornmeal. Try a little less flour or cornmeal next time and see if that helps the consistency of your cornbread. Try an extra egg in the recipe, or add a little sour cream to the recipe to see if this helps the cornbread's consistency.
How to keep cornbread moist?
To help make your cornbread moist, add an extra tablespoon of melted butter to the recipe. Slather it in melted butter before serving and it will certainly be moist and rich!
What pans can I use in an air fryer?
You can use any oven-proof dish or mold in an air fryer, whether is it made of ceramic, glass, metal or silicone. You can also use paper or silicone paper cupcakes or molds. Read more about what pans to use in an air fryer.
Can you freeze cornbread after baking it in an air fryer?
You can freeze baked cornbread after cooking in the air fryer. Cornbread can stay in an airtight container or resealable plastic bag for up to 3 months in the freezer. Just thaw to room temp and warm it up before serving.
How long can you safely store cornbread in the refrigerator after baking?
Once you have baked cornbread in the air fryer, you can store at room temperature in an airtight container for up to 3 days.
How do you reheat cornbread in an air fryer?
To reheat baked cornbread in an air fryer, preheat to 320 degrees F. and bake for 3-4 minutes until warmed through and through.
What sides go well with cornbread?
Cornbread pairs well with bold dishes like chili, taco soup, beef stew, or pinto beans.
Top tips for baking cornbread in an air fryer:
Let the batter rest for 15-20 minutes before baking. This allows the baking powder to incorporate more air.
Try not to disturb the batter and keep the air bubbles in the batter when pouring it into the pan.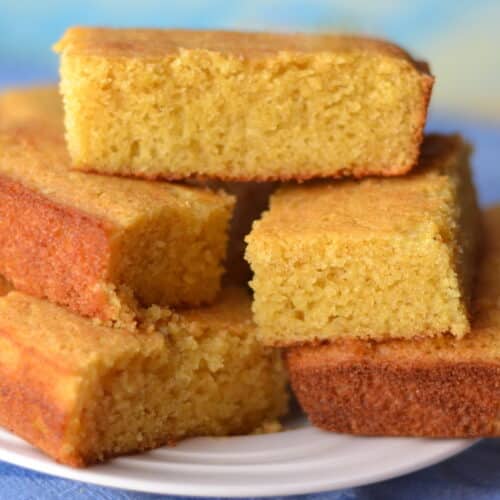 Air Fryer Cornbread
Cornbread is a Southern staple and an air fryer is the perfect way to bake it. It is made with buttermilk, butter, and eggs, so it will be moist and buttery on the inside with its crispy crust. It has a true country flavor and is always a crowd-pleasing side to any meal.
Ingredients  
6

tbsp

Unsalted butter

melted, plus extra for baking pan

1

cup

cornmeal

¾

cup

all purpose flour

1

tbsp

sugar

1½

tsp

baking powder

½

tsp

baking soda

¼

tsp

salt

2

large eggs

lightly beaten

1½

cup

Buttermilk
Instructions 
Coat baking pan with light layer of butter and set aside

Mix flour, cornmeal, sugar, baking soda, baking powder, and salt in a large bowl

In a separate bowl, mix eggs, buttermilk and butter

Pour buttermilk mix into cornmeal mix and combine

Pour batter into the prepared baking pan and place pan on 1-inch rack

Air fry for 25 minutes at 360°F
Notes
Try adding a half of a can of creamed corn or a few green onions to the batter for a vibrant corn taste.
Try adding cooked taco meat and cheese for a Mexican twist.
Nutrition
Nutrition Facts
Air Fryer Cornbread
Amount per Serving
% Daily Value*
* Percent Daily Values are based on a 2000 calorie diet.