This recipe for air fryer panko chicken tenders is one dinner you can actually feel good about serving to the kids, and to yourself too! Most chicken tenders rely on loads of oil to develop any crispness whatsoever, but in the air fryer, your chicken tenders will come up nice and crunchy without all that grease! In our version, the only additional fat is a light spritz of olive oil spray (which is naturally rich in healthy omega-3's, we might add) and your tenders are good to go. Lightly seasoned with salt and pepper, these chicken tenders also make the perfect vehicle for any of your favorite dipping sauces.
How long do you cook chicken tenders in the air fryer?
Chicken tenders should be cooked for 10 minutes in the air fryer at 350°F. You'll need to turn the tenders 5-7 minutes in to cook evenly.
Chicken Tender Air Fryer Time: 10 minutes
Chicken Tender Air Fryer Temperature: 350°F
USDA Recommended Internal Temperature: 165F
What are chicken tenders?
Chicken tenders are a cut of white meat from the area under the chicken breast (the tenderloin). There are two tenders per chicken. Chicken tenders are often incorrectly referred to as chicken fingers or chicken strips.
What are panko chicken tenders?
Panko chicken tenders are simply chicken tenders breaded with Panko bread crumbs.
Are chicken tenders the same as chicken strips?
While these terms are often used interchangeably, they are not synonymous. Chicken strips are strips of chicken breast while chicken tenders are from an area which is under the breast meat called the tenderloin.
Are air fryer panko chicken tenders good for you?
Chicken tenders are white meat and an excellent source of protein, minerals, and vitamins like vitamin B12/B6, zinc, iron, copper, niacin, selenium, phosphorus, riboflavin, thiamine, and potassium.
Chicken tenders are often fried in fat, which adds a lot of unhealthy fat. However, chicken tenders cooked in an air fryer do not have the bad fat often associated with deep frying.
Should you wash chicken tenders before cooking?
No. Washing raw chicken before cooking can spread the bacteria to your sink and other surfaces utensils. The USDA does not recommend washing chicken before cooking due to the potential for cross-contamination. Cooking poultry to the USDA recommended internal temperature of 165F will kill any bacteria that would have been washed off.
Take it to the next level
For next level chicken tenders, serve with our sriracha aioli.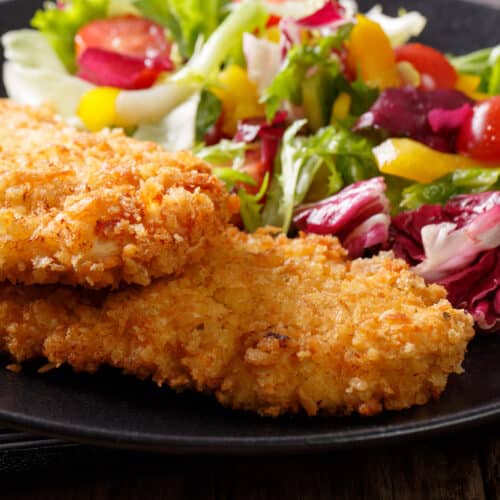 Air Fryer Panko Chicken Tenders
These air fryer panko chicken tenders are a sure fire hit with the kids. A quick and easy solution to your appetizer needs. Ready in 20 minutes or less. My kids were practically raised on chicken tenders because they are so easy to make in the air fryer (it doesn't hurt that they will actually eat them as well).
Ingredients  
1¼

pounds

chicken tenderloins

0.5

cup

panko bread crumbs

plain or Italian style

1

Egg

0.5

tsp

Salt

0.5

tsp

Black Pepper

Olive oil

spray
Instructions 
Preheat your air fryer to 350°F

Season chicken tenders with the salt and pepper

Break the egg into a bowl and beat

Place the bread crumbs in another bowl1

Dip chicken tenders (one by one) in egg, coating both sides

Roll each chicken tenderloin in panko bread crumbs, ensure a full and equal covering2

Spray the air fryer basket with oil

Add the chicken tenders to the basket and cook for approximately 10 minutes, flipping halfway3
Notes
1  Try adding 1/2 cup of Parmesan cheese to the Panko bread crumbs. 2 drizzling melted butter on the chicken tenders before air frying. 3  Ensure chicken is cooked to an internal temperature of at least 165°F.
Nutrition
Nutrition Facts
Air Fryer Panko Chicken Tenders
Amount per Serving
% Daily Value*
* Percent Daily Values are based on a 2000 calorie diet.