What makes this recipe amazing is the sriracha aioli. It is creamy, a little spicy, and absolutely addictive. The recipe was popularized by Bonefish Grill (they call it Bang Bang Shrimp).
This sauce is ideal on seafood, although it also works very well with white meats such as chicken or pork. In fact, I use this sauce on many of our air fryer recipes.
The original recipe is a mixture of mayonnaise, Thai sweet chili sauce, sriracha, and honey. We add a little cream to make it smoother. The amount of Sriracha depends on the taste of each palate. If you like it spicy, you can add a little more. This sauce needs a sweet touch, so honey is an essential ingredient. However, it can be substituted for sugar in case you don't have honey. Also, some add a touch of vinegar or rice vinegar.
Its preparation is very simple, and it only consists of mixing the ingredients and adjusting the quantities a little to your liking.
The 5 secrets for perfect Air Fryer Panko Shrimp with Sriracha Aioli
Choose wheat flour with a leavening agent, it will make your shrimp puff up a little more.
Do not cook the shrimp for more than 7 minutes. If you overcook the shrimp, their meat will be soft and a bit sticky.
Make some extra sriracha aioli (aka Bang Bang Sauce), because the crispy coating on the shrimp tends to soak up the sauce quickly.
Drizzle some extra sauce over the shrimp.
Toss sauce and shrimp together when serving. Not before. Decorate with hot pepper or pieces of Ciboulette.
This sriracha aioli also goes well with some of our other air fryer recipes: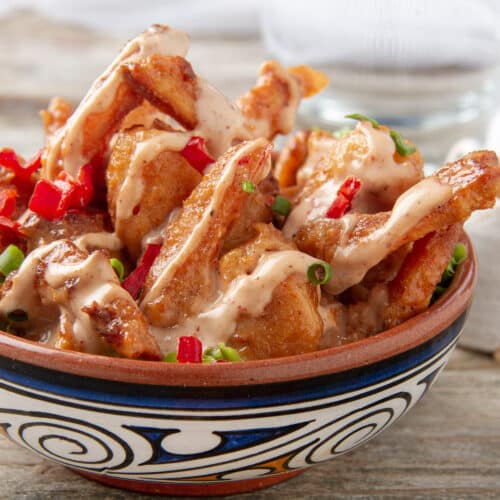 Air Fryer Panko Shrimp with Sriracha Aioli
This air fryer panko shrimp with sriracha aioli sauce is similar to BoneFish Grill's Bang Bang Shrimp and it takes only 15 minutes. The sriracha aioli (mayo, sriracha sauce, and sweet chili sauce) is AMAZING. 
Ingredients  
Sriracha Aioli
¾

cup

mayonnaise

1

cup

cream

1

tsp

sriracha sauce

1

tbsp

Thai sweet chili sauce

1

tbsp

honey

1

red hot pepper

optional: decoration only
Air Fried Shrimp
¾

lb

jumbo shrimp

shell off and deveined

½

cup

wheat flour

self-rising

½

cup

Panko bread crumbs

1

egg
Instructions 
In a mixing bowl, place all the sauce ingredients: mayonnaise, cream, sriracha, Thai sweet chili sauce, and honey.

Stir with a spoon until all the ingredients are well integrated, and the sauce looks homogeneous. 

Place the wheat flour on a flat plate and add a pinch of salt. Repeat this procedure with the breadcrumbs, place it on another flat plate, and sprinkle a little salt. Crack the egg into a bowl, and stir it. To properly bread the shrimp, you must first pass them through the wheat flour, then through the beaten egg, and finally through the breadcrumbs. Make sure they are perfectly covered with bread crumbs.

Place the breaded shrimp in the basket of your air fryer. Try to leave a little space between each one so that they brown evenly.

Cook the shrimp in the air fryer for 5 minutes at 400°C. Open the Air Fryer, if you think the shrimp should be more golden, cook them for two more minutes. This should be more than enough. Avoid overcooking the shrimp. If you find that the shrimp look a bit dry, don't worry. Sriracha aioli will fix this.

Separate a third of the sriracha aioli and place it in a separate bowl. Place the cooked shrimp in the rest of the sauce and stir until well coated with sauce.

Serve immediately with some chives and chopped hot pepper. Drizzle with plenty of sriracha aioli, enjoy.
Notes
Note: You can prepare this recipe ahead of time. However, you should only mix the shrimp and sauce together when serving.
Nutrition
Nutrition Facts
Air Fryer Panko Shrimp with Sriracha Aioli
Amount per Serving
% Daily Value*
* Percent Daily Values are based on a 2000 calorie diet.