Your favorite local barbecue joint might have you thinking that the only way to cook pork belly is low and slowwww. Better not even attempt unless you have a full Saturday to dedicate to such a task, right? Wrong! Perfectly cooked pork belly is possible in under an hour, complete with irresistibly crispy skin which, let's be honest, is (at least) half the reason for cooking pork belly in the first place. We're keeping things classic here with a simple seasoning of salt, black pepper, and garlic, allowing that inherent pork flavor to shine brightly. Juicy meat, crunchy skin, only six ingredients, and minimal cleanup required–what more could you want!
What is pork belly?
Pork belly is a boneless cut of pork that comes from the hog's underside or belly area after the spareribs and loin have been removed. It is sometimes called side pork and the two terms can be used interchangeably. It is often served in small portions for its succulent and rich flavor. It's salty, meaty, and very hearty. Pork belly can be roasted, smoked, grilled on skewers, added to tacos, or used in rice bowls, and may be best cooked in an air fryer. It is a popular menu item by chefs since it is so versatile and flavorful!
Is pork belly and bacon the same thing?
Both pork belly and bacon are cut from the underside or belly of the pig. Think of pork belly as uncured, un-smoked, and un-sliced bacon.Most of the time bacon in the United States is cured with salt, smoked and sliced. In the U.S. bacon is technically pork belly, but pork belly isn't necessarily bacon. Often bacon is more expensive than pork belly since bacon needs to be cured and smoked. If you love bacon, you will love pork belly!
How do you cook pork belly in the air fryer?
Pork belly is best served in small portions, so start by cutting it into 1 inch squares. Season with salt and pepper and rub into the pork. You can do this a day in advance of cooking in the air fryer. Just prior to air frying, rub baking powder and garlic powder in the pork belly squares. Preheat the air fryer to 250 degrees Fahrenheit. Spray the inner basket with cooking oil and spray the pork belly liberally with cooking oil. Air fry the pork belly pieces for 25 minutes, with skin side up. Turn the heat up to 400 degrees and air fry for an additional 20 minutes until the skin is nice and crispy. Enjoy!
Why is pork belly so popular?
One bite of pork belly can be so crisp, yet wonderfully tender and is packed with the savory flavor of pork. It's just that delicious, so you may even feel guilty eating it.
What temperature do you cook pork belly in the air fryer?
After preheating, usually the first half of air frying the pork belly is at 250 degrees. The second half of air frying will be set at 400 degrees.
How do you know when pork belly is done?
You can tell when your pork belly is done by the color of the juices that come out when you poke a hole in a few of the cut squares. The juices should run clear and the meat is tender when pierced with a knife. The internal temperature of the pork belly cuts should be 145 degrees. Be careful not to overcook pork belly. It is overcooked when the muscle and fat become rubbery.
What internal temperature should pork belly be cooked to?
Pork belly can be removed from the air fryer when the internal temperature is 145 degrees F. A good rule of thumb is pork, in general, is done when the internal temp reaches 145 degrees using a meat thermometer.
Is it safe to eat rare pork belly?
Eating rare or undercooked pork is not considered safe. Trichinosis is a food-borne illness caused by eating rare pork that is infested with a specific worm. Symptoms may include abdominal pain, diarrhea, fever, and chills. Farming practices have improved in the last 50 – 60 years, so the risk may be low, but it is still not a good idea to eat rare pork.
How do you reheat pork belly in the air fryer?
The simplest way to use the air fryer to warm up cooked pork belly is to first preheat to 350 degrees Fahrenheit. Sprinkle the side of the pork belly with the most meat with water, cover with foil, but leave the skin exposed. This prevents the softer meat from burning. Leave the skin side facing up and reheat for 3-4 minutes. It can be reheated more than once, but ideally it always tastes best to eat pork right after it has been cooked in an air fryer the first time.
Can you freeze pork belly after cooking?
Pork belly freezes best when it's raw, but it's ok to freeze cooked leftovers, too. Use a good, sealed freezer bag to make sure cold air does not dry out the meat or make it tough to eat due to freezer burn. If stored properly, pork belly can be frozen up to 2 months.
How long can you safely store pork belly after cooking?
Once it is cooked, pork belly will keep for up to about 4 days in the refrigerator.
What sides go well with pork belly?
Some side dishes that go well with pork belly are your favorite baked bean with brown sugar recipe, twice baked potatoes, hushpuppies, corn on the cob, brussel sprouts, or mac 'n cheese. If your pork belly is moist and juicy try something with a crunch like cole slaw or any kind of salad. If your pork belly is more crispy, try a side dish that is soft and tender. The key here is to use contrasting textures for a good balance. However, if you like to eat your pork belly in a sandwich all you need is a good bun and your favorite bag of potato chips.
Is pork belly tender when cooked in an air fryer?
The short answer is yes! When cooked correctly with our Pork Belly recipe, the meat will be savory, moist and succulently tender.
Is pork healthier than beef?
Fresh pork belly has high-quality protein if you use lean cuts. It also has substantial micronutrients including fat-soluble vitamins and minerals. Keep in mind, fresh pork belly usually has about 30% fat tho, with saturated fatty acids making up about half of this value. Beef, on the other hand, is higher in iron and zinc. Pork, in general, does appear to be slightly better nutritionally than beef. It's best to consume low-fat cuts, either in pork or beef. Beef cuts are usually lower in total fat, but low-fat pork cuts usually have more nutrients.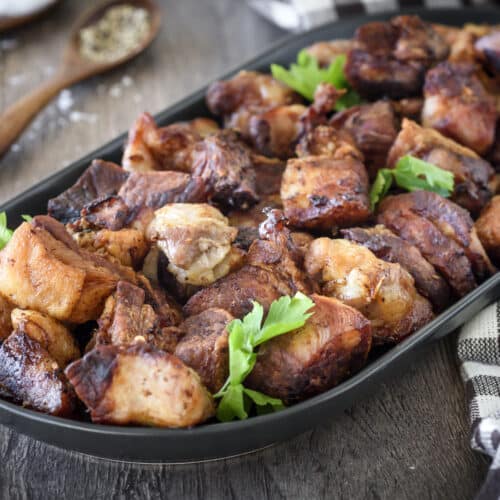 Air Fryer Pork Belly
If you're like me, you love all things bacon, and pork belly is no exception! Air fryer pork belly is a can't-miss, culinary delight! Tender on the inside and crispy on the outside, and infused with savory seasonings, each little bite is a pop of porcine perfection! Make this recipe on game day or any day and watch them disappear! 
Ingredients  
1 1/2

pounds

pork belly

2

tsp

kosher salt

1

tsp

black pepper

1/2

tbsp

baking powder

1/2

tsp

garlic powder

cooking oil of your choice
Instructions 
Cut the pork belly into 1-inch squares or strips, then place in a large mixing bowl.

Sprinkle the pork belly with salt and pepper, rubbing into the skin and meat (the first two steps can take place up to 1 day prior to air frying)

Mix baking powder and garlic powder & rub the mixture all over the pork belly.

Preheat the air fryer to 250°F.

Spray the inner basket of the air fryer with cooking oil.

Liberally spray the pork belly with the cooking oil (dry mixture should be moist).

Air fry the pork belly in one layer, skin side up for 25 minutes.

Turn up the heat to 400°F and air fry for an additional 20 minutes or until the skin is crisped to your liking.
Nutrition
Nutrition Facts
Air Fryer Pork Belly
Amount per Serving
% Daily Value*
* Percent Daily Values are based on a 2000 calorie diet.