Our Salmon Fish Cakes may remind you of classic salmon croquettes from back in the day. They are so flavorful, we think you will love them and want to add them into your rotation of good meals to cook for your family. You'll get golden, crispy fish cakes that only air fryers can deliver. Add to that, you'll use little to no oil in this simple, tasty dish. Our fail-safe recipe takes only 20 minutes to prepare and cook.
What are salmon fish cakes?
Salmon fish cakes are simply fresh or canned salmon mixed with egg, breadcrumbs, a few other unique ingredients, and formed into cakes before air frying. They get their name from their round, flat shape, just like a cake. They are popular as an appetizer or a main dish alike. Our recipe uses canned salmon for ease and simplicity, but you can use fresh salmon as an alternative.
Step By Step Directions
It's super simple to pull this recipe together.
Mix together all of the ingredients (salmon, eggs, mayonnaise, salt, breadcrumbs, lemon zest, and dill).
Fill a 1/2 cup measuring cup with the salmon mixture.
Form into 4 round, flat cakes, about an inch thick, and about 3 inches in diameter, making each fish cake equally thick and consistent in size.
Preheat the air fryer to 390 degrees F. and spray a tiny bit of oil in the air fryer basket.
Place 2-4 fish cakes into the air fryer basket at a time, spray the top of each cake with a tiny bit of oil and cook for 8 minutes total, turning once about halfway through. When you turn the fish cakes over, spray again with oil for crispiness.
Enjoy!
Reasons we think you will love Air Fryer Salmon Cakes
Canned salmon makes this dish very affordable. You can keep cans of it in your cupboard until you are ready to enjoy.
Salmon fish cakes are golden and crispy, but made with only a tiny spray of oil
You can prepare them up to a day in advance and you can easily freeze the leftovers.
Salmon is heart-healthy.
Should I remove the bones from canned salmon?
It is a good idea to remove the bones from your canned salmon. Bones do contain extra calcium but they are risky to eat and not encouraged. Canning makes the bones soft and easy to mash up and digest, but we prefer removing any bones you can see.
What temp do you use to cook salmon fish cakes in an air fryer?
For best results, preheat the air fryer first , then cook the salmon fish cakes at 390 degrees F. The high heat and short cooking time is what makes these fish cakes so crispy, golden brown, and delicious.
How can your tell if the salmon fish cakes are done?
You can tell when your salmon fish cakes are done when they are golden brown in color and they hold their round shape and don't fall apart.
Do salmon fish cakes stay light and tender when cooked in an air fryer?
When cooked at a high heat (390 degrees F.) for a short amount of time (8 minutes total), the salmon fish cakes will be a crispy, golden brown on the outside and fresh and tender on the inside.
How long can you safely store salmon fish cakes after cooking?
Cool completely, then you may store the cooked salmon fish cakes in an air tight container in the refrigerator for 3-4 days safely.
Can you freeze salmon fish cakes before cooking them in an air fryer?
Once you form the salmon cakes, place then on parchment paper on a cookie sheet, freeze for 2 hours, then transfer them to a freezer bag with wax paper between layers. You can freeze them up to 3 months. Thaw completely before cooking.
How do you reheat cooked salmon fish cakes in an air fryer?
Preheat the air fryer to 350 degrees F. Spray the cooked salmon cakes with a tiny bit of oil and and heat for 4-5 minutes until warmed through and through. Keep in mind, the salmon fish cakes may lose a bit of moisture after cooking, storing, and reheating.
What pairs well with salmon fish cakes?
Sauces salmon fish cakes pair well with are remoulade sauce, a dill dip, sriracha aioli, or cocktail sauce. You can serve salmon fish cakes with an arugula salad or on a bed of spring greens with yogurt, lemon wedges, or cucumbers. You can even put a salmon fish cake with bread or a bun to form a yummy fish sandwich.
Top tips to making great salmon fish cakes in an air fryer:
Very important tip, if the mixture seems soggy once you have mixed everything together, add extra Panko to soak up any liquid.
Try mixing your breadcrumbs with a little Panko for even more crispiness.
You may prepare the fish cakes up to 24 hours ahead of time and keep refrigerated. If you stack them, place a layer of wax paper between the salmon cakes. Since they will be chilled, add an extra minute to the cooking time.
Be sure to drain and mash the canned salmon, remove any bones you can.
Don't overcrowd the salmon cakes in the air fryer basket, they won't crisp up as easily.
Spray twice with a small amount of oil, once at the start of cooking, and once more when you turn the salmon cakes over. This helps them to get more golden brown.
Use equal-sized fish cakes so they will cook evenly at the same time.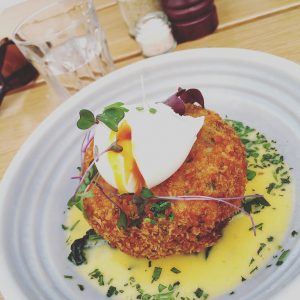 Air Fryer Salmon Fish Cakes
The whole family will enjoy this easy recipe and it may remind some folks of classic salmon croquettes. Look for canned salmon that has less than 50 milligrams of sodium per serving for a health-conscious taste of goodness.  They only take minutes to prepare.  Salmon fish cakes make for a great appetizer or for a simple weeknight main dish for the whole family.   
Ingredients  
12

oz

canned salmon

drained

2

eggs

¼

cup

mayo

¼

tsp

salt

½

cup

panko breadcrumbs

lemon zest

½

teaspoon

dried dill

¼

teaspoon

dried parsley
Instructions 
In a large bowl, mix together the salmon, eggs, mayo, salt, breadcrumbs, lemon zest and dill.

Firmly pack the mixture into ½ cup measuring cup, then tap it out into the palm of your hand (if you do not have a measuring cup, you form your cakes in your palm like a hamburger patty).

For each salmon cake, form a patty that is 1 inch thick (or a little less) equal thickness across the patty.

Spray the basket with oil, then add salmon cakes into the basket (do not overcrowd the salmon cakes). Spray the tops of the salmon cakes at the outset and again when flipping with 4 minutes left.

Cook for 8 minutes at 390°F, turning halfway and re-appying oil.
Notes
You can replace the dried dill or parsley with 2 tsp fresh dill/parsley.
Nutrition
Nutrition Facts
Air Fryer Salmon Fish Cakes
Amount per Serving
% Daily Value*
* Percent Daily Values are based on a 2000 calorie diet.