An air fryer generally saves a lot of cooking time. It all depends on what you are cooking. It takes a little or a lot more time than deep frying, while it can take little/lot less time than baking, and sometimes almost the same time as cooking in a pan. Going by that, whenever I cook in my air fryer, my cooking time instincts often way off the mark. Under cooking something can be easily handled. You just throw it back in for cooking some more. But overcooking can be disastrous. Hence, I turn to the Instant Read Thermometers.
What is an Instant Read Thermometer?
An Instant Read Thermometer is a thermometer you stick into the food to know the temperature of the food instantly, while it's cooking. It lets you know the internal temperature of the food and you can instantly stop cooking and save a classic case of overcooking the food. It is usually meant for meat, but I find it useful for every type of food from fish to vegetables.
Benefits to Customers When Using Instant Read Thermometers with Air Fryers
As I have already pointed out, not overcooking the food is the biggest benefit of using an Instant Read Thermometer. But apart from that, the device has many advantages which I did not realise when I got one for myself. But as I started using the thermometer, I know now that it is a must for your kitchen. To save your time, I have compiled a nice list of the following benefits based on my experience.
• You can cook the food to its precise temperature and avoid any illness or health issues caused due to wrongly cooked food.
• Reheating becomes easy. You can maintain the temperature and texture of the food.
• The guesswork regarding the status of the food can be stopped.
• There are options for digital and analog, and Celsius and Fahrenheit demarcations.
Top 3 Best Instant Read Thermometers
Here are the top 3 picks available on the market right now:
1. XRB – Digital Meat Thermometer Instant Read 3-4s Electronic Waterproof Food Thermometer
With this thermometer, you can never go wrong with the cooking process. This thermometer is fast, stays true to its 'instant' feature and the precision on this is also best-in-class. The body is made of ABS plastic and the probe is also 304 stainless steel; in compliance with the food safety standards. The big hanging hole and magnet on the backside make it easy to store while not using.
Pros:
• It is water resistant and can be soaked in water briefly for cleaning.
• The probe has an anti-bacterial coating to prevent the bacteria.
• The probe is made of 304 stainless steel and does not break if bent.
• Super-fast with a response time of 3-4 seconds.
• Wide temperature measuring range of 50°C to 300°C or -58°F to 572°F
Cons:
• Being the digital display, it is very difficult to read in low lighting or dusky atmosphere like during winters.
• Runs on 3V button battery which will need an added cost and hassle of replacement when it runs out.
2. Digi – Digital Meat Thermometer with Instant Read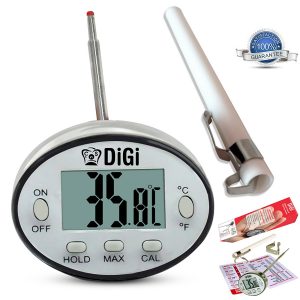 This pocket-sized thermometer gives an accurate reading of the temperature instantly, even with liquids. It comes with a pocket clip and an easy to read temperature chart so that you can never go wrong with your cooking. Also, the big LCD dial makes it easy to read the temperature at any time. With the speed of less than 6 seconds, undercooked or cremated food is a history.
Pros:
• It has a long probe and a stainless steel clip to save your hand from burning.
• It has a re-calibrate button.
• The dial is made of shatter-proof material.
• 10-minute auto-off feature to save battery life.
Cons:
• The probe is too thin and so the speed reduces to 6-8 seconds.
3. Kizen – Top Waterproof Instant Read Thermometer with Backlight, Calibration, and Magnet

This ultra fast thermometer takes the temperature in under 2 seconds and takes away all the frustration of waiting for the thermometer to show its reading. It is full of unique and innovative features like waterproofing, anti-bacterial coating, auto-off, re-calibration button and what not! Your days of less than perfectly cooked meals will be long gone with this device.
Pros:
• The body is waterproof and can be washed under running water.
• The LCD display screen is large and bright to make it read in low-lighting convenient.
• It comes with a lot of extras like premium foam lined box, a temperature guide, user's manual and 4 Velcro dots for hanging the meat temperature guide.
Cons:
• It runs on battery and needs replacement when it runs out.


How to Choose the Best Instant Read Thermometer to Use with Your Air Fryer?

• The most important thing in a food thermometer that matters the most is the speed and accuracy. Any thermometer in a working condition will report the right temperature eventually. But what is essential for a perfectly cooked meal is how fast you can turn on the thermometer and how clearly you can read the temperature.
• The second on our priority list is the probe length. The probe needs to be thin and long. The length will save your hand from getting burnt by the steam rising out of hot food. And it needs to be thin to avoid the juice leaking probe.
• Next, you need to look for is the temperature range. The wider the range, the better it will be. A good thermometer should cover a maximum range of temperature from very cold to beyond the boiling point of oil so that it can be of use for all kinds of food.
Wrap Up:

To my knowledge and the research, these 3 instant read thermometers are the best available options for anyone who wants to buy one. I have shortlisted the above three products keeping the speed, temperature range, and accuracy as one of utmost importance. There are obviously cheaper options available in the market with relatively slower speed and lesser convenience. But the ones listed above are 100% convenient, safe and accurate. I hope the above review will be helpful for you in finding the best one for you.