The bar has been raised with this power-horse of an air fryer and it makes our Top 20 List of Best Air Fryers of 2022. This Instant™ Vortex™ Plus XL Dual Basket 8 qt. has a ton of useful features, but top of the list has to be the ClearCook window. The see-through window works with a perfectly placed light inside so you can check on your cooking progress without opening the basket.
The dual baskets mean you can cook double-up cooking, or cook two separate foods at the same time. SyncCook and SyncFinish automatically match settings for cooking or match the finish time between the two baskets. The EvenCrisp™ air flow technology delivers crispy, tender results every time with 95% less oil. 6 cooking programs, plus the 2 Sync buttons helps you cook larger meals with a breeze. Because the cooking basket and cooking trays are non-stick and dishwasher safe, clean-up is a snap. This air fryer, which is made by Instant Pot, is a big winner!
Price
The Instant Vortex Plus XL Dual Basket 8 qt. sells for $169.95 on Amazon or $204.36 at Walmart.
Features
8-in-1 functionality
ClearCook window and internal lights helps you monitor your cooking progress without opening the basket.
Dual air fryer baskets with separate controls
SyncCook lets you cook portions of food with the same cooking programs while SyncFInish automatically finishes 2 different cooking programs at once.
Evencrisp technology like many of the popular air fryers have, achieves all the crunch and tenderness of deep-frying with 95% less oil.
One-touch smart programs with 8 customizable cooking programs
Adjustable cooking temperatures from 95-400 degrees F.
Little to no preheating
Easy to use touchscreen
Extra large capacity
Capacity
This Instant Vortex Plus Dual Basket 8-in-1 boasts of an extra large 8 quart capacity. Each basket holds 1.5 lbs. of French fries or 2.5 lbs. of chicken. It is perfect for large families, parties, and meal prep. Its 2 square baskets hold more food and create more cooking space than its round competitors.
Size
The dimensions of this Instant Vortex XL Plus Dual Basket 8 qt. is 17.8L x 18.8W x 15.4H inches.
Ease of Use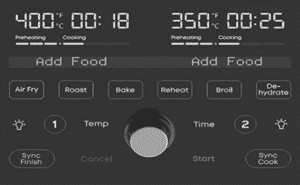 The Instant Vortex Plus Dual Basket 8 qt. has a fairly easy to use touchscreen and it displays step-by-step instructions at each stage of cooking. The One-Touch-Smart program makes the 8 customizable cooking programs simple to use. You can set and save your custom time and temp settings for future use. Cooking times can be adjusted in minute increments. The 2 air fryer baskets make cooking an entire meal at the same time very manageable. The dual controls allow individual settings for each basket. This air fryer can complete the cooking of food in each of the 2 baskets at the same time with the SyncFinish button. The ClearCook window lets you monitor your cooking progress without opening the basket.
Ease of Cleanup
Less oil used means a simpler cleanup. The cooking baskets and cooking trays are coated with nonstick Teflon and are dishwasher safe so cleanup is even more of a snap. To remove baked-on grease and food residue from the cooking element, it is recommended by the manufacturer to spray the area with a mixture of baking soda and vinegar and wipe clean with a clean, damp cloth.
Safety Features
The Vortex parts and accessories are PFOA and BPA free and compliant with FDA standards. The air fryer basket is made of aluminized steel with a non-stick coating.
Wattage
The power rating on the Instant Vortex XL Plus Dual Basket 8-in-1 is 1700W.
Warranty
The Instant Vortex Plus XL Dual Basket air fryer has a one-year limited warranty.
Reviews on Amazon
94% of the reviews on Amazon came in at 4 stars and above. In looking closer at the 1 star reviews (2% of the total number of reviews) those reviewers mentioned a defective air fryer or a bad smell.
Pros
Made by Instant Pot, a very reputable and reliable brand
Versatile with its 8 cooking programs
Dual square baskets
See-through window allows you to monitor your cooking progress
Uses less energy than traditional cooking methods
Perfect for large families
Cooks fast or slow
Safe
Convenient
Simple to use touch screen
Easy cleanup
Cons
Relatively expensive
Large
Heavy
It has a smell that goes away after running a few times and cleaning thoroughly.