The Instant Vortex Plus came in as our #1 air fryer on our best air fryer list. Instant is one of the most recommended air fryer brands for many reasons. They make high quality pressure cookers, slow cookers and air fryers. The price is under $100 and therefore it is not only great quality from a well known brand, but also a great value. The Vortex Plus uses Evencrisp™ technology to deliver the same crunch and tenderness of traditional deep-frying, but with all of the health benefits of an air fryer.
The stainless-steel exterior is easy to clean and looks great in most kitchens. The air fryer basket is dishwasher safe non-stick, making clean up quick and easy. Like most air fryers, the Vortex Plus cooks anywhere from 120 to 400 degrees F. The air fryer basket in the Vortex Plus is square, which creates more cooking space than its round competitors.
Price
The 4-quart version is $99 on Amazon ($129 for the 6-quart version)
Capacity
The Vortex Plus comes in 4-quart or 6-quart sizes.
Features
The Vortex Plus has 6-in-1 functionality: Air fry, broil, bake, dehydrate, roast, and re-heat.
Ease of Use
The touchscreen is intuitive and super easy to use. You simply select the cooking style (air fry, bake, etc) the time and temperature and press start. The dial allows you to spin quickly for different temps compared to pushing a button over and over to get to the temperature you're looking for. For added simplicity, the Vortex Plus uses "one-touch smart programs" for the most commonly cooked items like chicken wings and roasted veggies.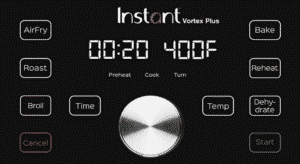 Ease of Clean Up
The air fryer basket is non-stick Teflon, and dishwasher safe making clean up a breeze.
Safety Features
The Vortex Plus comes with built-in safety features including overheat protection and auto-off.
Watts
The wattage on the 6 quart version of the Vortex Plus is 1700W.
Instant Vortex Plus 4 Quart Air Fryer Reviews
83% of the reviews on Target.com are 4- or 5-star. There are over 15,000 reviews on Amazon with 95% of reviews coming in above 4-star.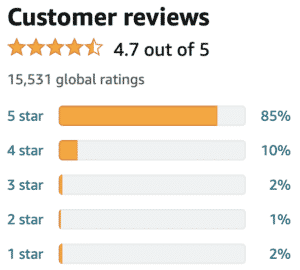 Pros
High quality
Cooks fast
Great brand
Little to no preheating time
6-in-1 functionality
Easy to use
Easy to clean
Inexpensive
Compact design
Stainless-steel accents
Cons
Small capacity
Emits a plastic smell in the beginning