Air fryer mushrooms are the quick and healthy snack or side dish you didn't know you needed! These crispy, savory, bite-sized apps go from the fryer to the table in less than 15 minutes! Thread them onto wooden skewers and arrange them with your favorite dip for an elegant appetizer guaranteed to impress your guests!
What are breaded mushrooms?
Breaded and fried mushrooms have been dipped in an egg wash first, then flour, breadcrumbs, Parmesan cheese, and spices, and cooked in an air fryer to create a delicious and crispy side dish. Breaded mushrooms are usually paired with a dipping sauce and is a simple vegetarian dish. Any type of mushroom can be used, such as white buttons, baby bellas, even portobello or oyster mushrooms.
What are the best mushrooms to air fry?
Two types of mushrooms work well in air fryer breaded mushroom recipes-baby bellas or white buttons, they are both delicious. Portobello and oyster mushrooms also air fry well.
What do we love about this recipe?
It's healthy, low-carb, and mushrooms are considered a superfood
It's so quick and easy to prepare
It's a crowd-pleaser as a family side dish or as a party appetizer
Ingredients for air fryer breaded mushrooms:
Mushrooms (white button or baby bellas)
Flour
Egg
Breadcrumbs or Panko
Parmesan cheese
Salt and pepper
Olive oil spray
How do you cook mushrooms so they are crispy?
Preheat the air fryer to 360°F
Mix breadcrumbs with parmesan cheese and set aside
Beat the egg and set aside
Flour goes in a separate bowl
Clean the mushrooms and trim off the stems
Roll each mushroom in flour, then the egg wash, then dip into the breadcrumbs/cheese mixture
Transfer mushrooms to air fryer basket in a single layer, cook for 7 minutes, turning halfway through
Best toppings for air fryer breaded mushrooms:
Ranch dressing
Garlic butter and parsley
Ceasar dressing
Marinara sauce
Soy dipping sauce
Lemon garlic aioli
The most important tip in getting the best results
Do NOT wash the mushrooms. Instead, if you want to clean them, just wipe them with a damp paper towel. Allow them to dry completely before coating them with the egg wash and breading. If you wash mushrooms, they are porous and almost impossible to dry completely. This makes them less likely to get the crispy edges when you air fry them.
What temp do you use to cook breaded mushrooms in an air fryer?
Set the air fryer to 360°F and cook for 7 minutes, turning halfway through.
How do you make the breading to stick in an air fryer?
The egg wash allows the flour and breadcrumb/cheese mixture to stick well to the mushrooms for a thick and crispy breading.
How do you know when the air fryer breaded mushrooms are done?
The breaded mushrooms are done after 7 minutes in the air fryer. They will have a delicious and crispy golden-brown crust and will be ready to serve immediately.
Can air fried breaded mushrooms be stored in the refrigerator?
The air fryer breaded mushrooms always taste best when freshly cooked. They will keep well for up to a day in the refrigerator if stored in an air tight container.
Can you freeze breaded mushrooms after cooking in an air fryer?
It is best to eat the air fryer breaded mushrooms right after they are cooked. If you must freeze them, wait for the mushrooms to cool to room temperature. Transfer the cooled mushrooms to an air-tight freezer bag and label the bag with the date. The mushrooms can freeze for up to 4-5 months.
Can air fryer breaded mushrooms be reheated?
Air fryer breaded mushrooms are best when eaten fresh from the air fryer. If you need to warm them up later, briefly reheat the mushrooms in the air fryer for the delicious crunch.
Can you use frozen, raw mushrooms to cook breaded mushrooms in an air fryer?
It is not recommended to use frozen uncooked mushrooms when cooking in an air fryer. Frozen raw mushrooms become very mushy and rubbery when they are thawed since they have a high content of water.
Why are mushrooms called a superfood?
Mushrooms pack a nutritional punch since they are full of vitamins, they promote a healthy immune system, and they boost bone health as well. That is the reason they are considered to be a superfood. They are a low-carb, lowfat food with some protein.
What are some benefits of mushroom?
They decrease the risk of cancer
They lower your sodium intake
Protect brain health
Promote lower cholesterol
Good source of Vitamin D for you
Stimulate a healthy gut
Are mushrooms keto?
Mushrooms such oyster, shiitake, white button and portobello are naturally low in carbohydrates, which makes them a keto-friendly food.
What are America's most popular types of mushrooms?
Try using portobello, shiitake, oyster, porcini, baby bellas, or white button mushrooms for air fryer breaded mushrooms.
Are mushrooms an anti-inflammatory food?
Yes, mushrooms are rich in several anti-inflammatory components such as polysaccharides, fatty acids, carotenoids, vitamins and biometals. Metabolites from certain mushrooms possess antioxidant, anticancer, and most significantly anti-inflammatory properties. Mushrooms are a great food to eat when you have minor inflammation from an injury, or if you have certain autoimmune disorders such as MS, rheumatoid arthritis, or lupus.
Are mushrooms good for weight loss?
Since mushrooms are high in antioxidants, have cancer-fighting properties, and provide protein and fiber, mushrooms have been found to be beneficial in weight loss.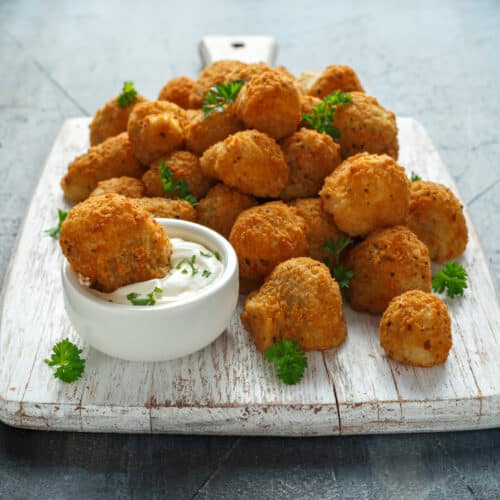 Air Fryer Breaded Mushrooms
These irresistible and crunchy, air fryer breaded mushrooms are so simple to prepare and cook in 15 minutes. This recipe serves 4 and can be served as a delicious party appetizer or a side dish along with your favorite dipping sauces.
Ingredients  
½

pound

mushrooms

button

½

cup

flour

1

egg

1

cup

breadcrumbs

panko

⅔

cup

parmigiana reggiano cheese

grated

salt and pepper
Instructions 
Preheat your air fryer to 360°F

In a small bowl, mix the breadcrumbs and Parmigiana cheese and set aside

In another bowl, beat the egg and also aside

Put the flour in a third bowl

Clean the mushrooms with a damp paper towel or cloth and allow to dry

For each mushroom: Roll the mushroom in the flour; dip the mushroom in the egg wash; and dip the mushroom in the breadcrumbs/cheese mix, ensure a good but even coating.

Place all the mushrooms into the air fryer basket and cook for 7 minutes at 360°F , turn mushrooms halfway through
Notes
Top tips to making great breaded mushrooms in an air fryer:
Add garlic powder or smoked paprika to the salt and pepper
You may want to slice the mushrooms in half or quarters depending on their size.
Cut the stems off before preparing
Use a fork to dip the mushrooms into the egg and breading, then press the breading into the mushrooms.
A light spray of olive oil helps to crisp up the breaded mushrooms before air frying.
Reminder, do NOT wash the mushrooms, just clean them with a damp paper towel and allow to dry before prepping.
Nutrition
Nutrition Facts
Air Fryer Breaded Mushrooms
Amount per Serving
% Daily Value*
* Percent Daily Values are based on a 2000 calorie diet.