These Air Fryer Portobello Mushrooms are a classic, versatile dish and so rich in flavor and protein too! This irresistible, healthy side dish is ready to serve in less than 15 minutes.
What are portobello mushrooms?
Portobello mushrooms are typically large in diameter with a nice rounded, yet flat top, or cap. They can average about 3-4 inches in diameter. Their smooth cap is usually brown or tan in color and is firm and thick to the touch. Their gills, which are under the cap, are fleshy and brown, and the stem of the mushroom is white and dense. They have a meat-like texture with their earthy flavor. Portobello mushrooms are a popular cultivated variety of mushrooms and always favored by professional and home chefs alike!
Do portobello mushrooms have nutritional value?
Portobello mushrooms contain vitamin D and B6, copper, selenium, potassium, phosphorus and niacin. In addition, this type of mushroom has a minimal amount of carbohydrates, which makes it ideal for the keto diet.
How to clean portobellos?
The first thing you should know is that portobellos grow at ground level or cultivation substrate. Being usual that they have remains of the earth below the umbrella. Therefore, it is very important to clean them thoroughly. These mushrooms should not be washed, because with washing they accumulate too much water in the region of the gills. And, this excess water affects cooking. And in case you do keep them, it helps break them down quickly.
To clean the portobellos, take them one by one. Rub the entire surface of the fungus with the damp cloth; then, gently brush the bottom, and voila.
Can I eat the gills of a portobello mushroom?
Yes, you can eat the gills of a portobello mushroom! The gills are located under the flat, rounded cap and are the thin strips that are brown in color. They have a soft and delicate texture. They do not need to be removed from under the cap and they add to the wonderful taste of this side dish.
About the stem is also edible, although we won't be using them in this recipe. If you want to eat them, pluck them gently and chop them into pieces. Moreover, there is no reason to discard them, you can add them chopped to an omelet. For example, the stem is used in recipes such as stuffed portobellos.
What can I pair with portobello mushrooms?
Portobello mushrooms are very versatile and can be air fried, grilled, broiled or pan saute-ed. They pair very well with balsamic vinegar, fresh herbs like oregano, thyme, rosemary, and cilantro. They also pair well with spinach, onions, marinara sauce, all the leafy greens and tomatoes, goat cheese, mozzarella, creamy sauces and garlic.
How do you cook portobello mushrooms in an air fryer?
Preheat the air fryer at 350 degrees F.
In a small bowl, combine melted butter, garlic, thyme, salt and pepper.
Using a pastry brush, gently coat the caps of the mushrooms with the seasonings and oil mixture.
Gently flip the mushrooms to the other side and coat the underside of the caps.
Using tongs, place the mushroom caps side up, in a single layer in the air fryer and cook for 4-5 minutes.
Flip the mushrooms using tongs and cook for another 2 minutes.
The cook time is 6-7 minutes total.
Serve with your favorite creamy sauce and enjoy!
Can you use frozen portobello mushrooms to cook in an air fryer?
It is not recommended using frozen portobello mushrooms in an air fryer. Frozen, fresh portobello mushrooms should only be used in making soups, casseroles, and stews since they are chopped into smaller pieces. So, it is best to attempt to buy an appropriate amount of portobello mushrooms that you can cook up for one meal. Keep in mind, freezing portobello  mushrooms will affect their nutritional value, texture, and taste, so even though it is possible to freeze them, it is not recommended.
What temp do you use to cook portobello mushrooms in an air fryer?
Set the temperature to 350 degrees Fahrenheit to cook portobello mushrooms.
How do you know when portobello mushrooms are done?
Most portobello mushrooms will be done and ready to serve after 6-7 minutes total. Keep in mind, there are many models and sizes of air fryers so you can check the cooking progress of the mushrooms after 4-5 minutes as you are ready to flip them, to make sure they are cooking as expected. At that time you can adjust your cooking time. Also portobello mushrooms are different sizes so this too may affect the total cooking time. The usual total baking time is 6-7 minutes.
However, portobello mushrooms cook very quickly. If you want to be extra safe, you can cook them for about three minutes on each side.
How do you reheat portobello mushrooms in an air fryer?
You may reheat the portobello mushrooms in the air fryer and it will help to dry out some of the moisture in the mushrooms. The texture and flavor may not be preserved in leftover portobello mushrooms though, due to their moisture content.
Can you freeze portobello mushrooms after cooking them in an air fryer?
Yes, portobello mushrooms can be frozen after cooking in an air fryer. After cooking, first completely cool them to room temperature. Place them in a single layer on a cookie sheet and you may store them in an airtight container or sealed freezer bag for up to 3 days in the refrigerator. If you won't be using them after 3 days in the refrigerator you may freeze them. Keep the mushrooms in a singer layer in an airtight freezer bag on the baking sheet and place the cooked portobello mushrooms in the freezer for up to 2-3 months.
How long can you safely store portobello mushrooms after cooking?
You may store cooked leftover portobello mushrooms in the refrigerator for up to 3 days, but no longer, after cooking. They should be cooled to room temperature first, then placed in an airtight container, in single layers on a baking sheet when possible, before storing in the refrigerator for another meal. Mushrooms have a lot of moisture in them, so they may get soft in the refrigerator. Eat them sooner than 3 days when possible.
What sauces and dips go well with portobello mushrooms?
Sriracha sauce
Ranch dressing
Avocado cilantro lime dressing
Marinara sauce
Ketchup
Honey mustard sauce
Tips to making great air fryer portobello mushrooms:
When buying, portobello mushrooms have a firm and fleshy texture. The underside, or the gills, should be delicate in texture and brown, not black, at the peak of their freshness.
If you can choose the portobellos make sure they are all a similar size.
Don't clean the mushrooms under running water, just use a damp cloth or paper towel to clean them off.
Use only a small amount of olive oil, only enough to gently brush on the seasonings.
This recipe does not use stems. But you can save them for another preparation.
Wine is a win/win for portobellos; adding a little in the dressing gives them an unbeatable flavor.
Consider using dried oregano instead of dried thyme, according to your personal preference.
The first time you make portobello mushrooms in the air fryer, check after a few minutes so you can adjust the cooking time. Portobello mushrooms are not all the same thickness and size.
You can use more mushrooms, but you may need more seasonings, and more total time, since the mushrooms are to be cooked in a single layer in the air fryer.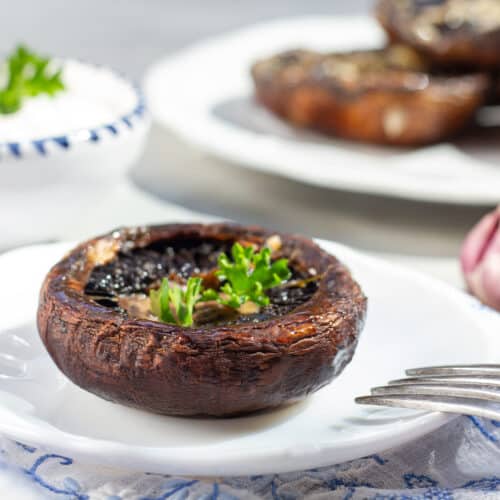 Air Fryer Portobello Mushrooms
Air fryer portobello mushrooms are slightly crispy and deliciously flavorful on the outside, while tender on the inside. They are quick and easy to make and add a classic touch as a vegetarian side dish to any meal!
Ingredients  
4

portobello mushrooms

large

3

tbs

butter

melted

¼

cup

white wine

4

cloves

garlic

minced

1

teaspoon

thyme

dried

½

teaspoon

pepper

black

1

teaspoon

salt
Sauce
⅓

cup

mayonnaise

1

tbs

capers

finely chopped

1

tbs

pickles

finely chopped

1

tbs

curly parsley

finely chopped

1

tbs

white onion

finely chopped
Instructions 
Preheat the air fryer to 350°C.

Place the butter in a medium mixing bowl. Melt it in the microwave for about twenty seconds. When melted, add the white wine, garlic, thyme, pepper, and salt. Stir with a teaspoon until the salt is dissolved.

Take the mushrooms, and clean them one by one. With a damp cloth, rub the surface of the portobellos, being careful not to scratch the skin. Then, with a soft bristle brush, brush the bottom of the mushrooms. Gently pull off the stem.

Then, using a kitchen brush, brush the portobellos with plenty of dressing. They must be well moistened.

Put them into the air fryer with the gills facing up. Cook them for five minutes.

Flip them over and cook for two more minutes. When ready, they will be well cooked and crispy.

To prepare the sauce, finely chop onion, pickles, capers, and parsley. Pour the chopped vegetables into the bowl with the mayonnaise and stir until all the elements are well integrated. You can serve the portobello with a little sauce on top. Or, just place the sauce on the side.
Nutrition
Nutrition Facts
Air Fryer Portobello Mushrooms
Amount per Serving
% Daily Value*
* Percent Daily Values are based on a 2000 calorie diet.