Air Fryer Meatloaf is so tender and juicy and cooks in only 25 minutes. Clean up is always a breeze so it's perfect for busy family weeknights. This meatloaf contains a mixture of ground beef, chorizo for some added spice, and seasonings. It's comfort food made simple and we think you'll like the added chorizo for a spicy twist to an old favorite.
What is chorizo?
Chorizo is Spanish or Mexican sausage.
Spanish chorizo goes through a process of curing and fermentation. This process cooks the Spanish chorizo so it's safe to eat. It can be spicy and is often served with breakfast or as part of a larger meal.
Our recipe uses Mexican chorizo. Mexican chorizo is a spicy ground meat sausage and typically seasoned with vinegar and chili peppers. It has a high fat content which leads to the soft and mushy appearance and feel. Remove the casing, if there is any, before adding to dishes, like our air fryer meatloaf.
Can you cook meatloaf in an air fryer?
Yes, meatloaf can be cooked in an air fryer. In fact, meatloaf is great when air fried.
Why make meatloaf in an air fryer?
It's a family favorite and we love this version for a quick weeknight dinner.
The fat drips away in the air fryer pan so the meat does not cook in the drippings
It can be baked in almost half the time compared to an oven recipe
The air fryer makes for a crispy crust around all the edges
How to keep meatloaf moist when cooked in an air fryer?
Use a higher fat ground beef (80/20 works well).
Don't over mix the ground beef.
Add a little water to the bottom of the air fryer pan.
Drizzle a little olive oil on top of the meatloaf while cooking.
Add a ketchup or BBQ sauce glaze.
Let the meatloaf rest before cutting.
Equipment needed
air fryer
mixing bowl
tablespoon
Ingredients
Ground beef and Mexican chorizo (with the casing removed)
Egg
Bread crumbs
Onion
Thyme and black pepper
How to make Air Fryer Meatloaf
Preheat the air fryer to 380 degrees F.
Knead together in a large mixing bowl all of the ingredients.
Mold the meatloaf a bit and smooth the top over. You can even mold into 2 loaves for more edges to get crisp. Coat the top with a small amount of olive oil.
Cook for 25 minutes in the air fryer until the meat reaches a temperature of 165 degrees.
Remove and allow to rest 5 minutes before slicing.
Enjoy!
Can you cook raw meat in an air fryer?
Yes, you can absolutely cook raw meat in an air fryer. The fat will drain away from the meat so no more sizzling in a pan full of drippings.
How long do I air fry a 1 pound meatloaf?
A 1 pound meatloaf should be cooked in an air fryer for 45 minutes at 380°F.
Should I add water in the bottom of the air fryer?
You may add water to the air fryer drawer when cooking fatty foods. Adding water underneath the basket helps to prevent the grease from getting too hot and smoking. You can also place a piece of bread under the basket inside the drawer. This will catch any grease.
Should I drain the grease from my meatloaf?
When cooking a meatloaf with high fat ratio, you should drain the meatloaf pan about 5 minutes before removing from the air fryer. If you do not drain the grease, the bottom can be soggy and the sides may look finished.
Should I cover meatloaf in the air fryer?
When cooking a meatloaf in an air fryer, you do not need to cover.
Can I make turkey meatloaf instead?
It's your personal preference, but you can substitute ground pork or ground turkey in this recipe.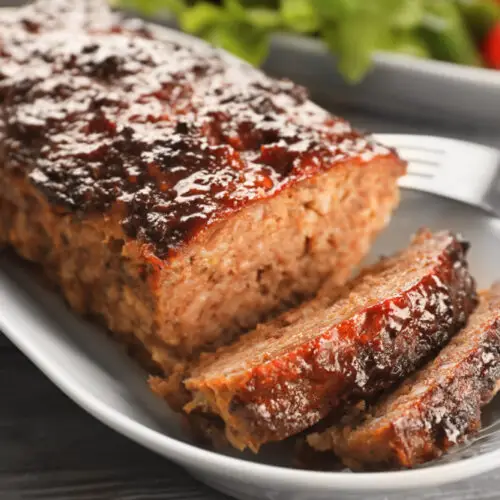 Air Fryer Meatloaf
Our family favorite, cozy comfort food has an added twist with a small amount of chorizo. Using a good quality beef, 80/20 lean-to-fat ratio, makes this air fryer meatloaf extra juicy, tender, and most of all tasty.  
Ingredients  
1

lb

ground beef

1

egg

lightly beaten

3

tbsp

bread crumbs

2

oz

chorizo

finely chopped

1

small onion

finely chopped

1

tbsp

fresh thyme

black pepper
Instructions 
Preheat your air fryer to 380°F

Knead together in a large bowl; the meat, beaten egg, bread crumbs, chorizo, onion, thyme, teaspoon salt and a generous amount of pepper

Transfer the ground meat mix to a pan and smooth the top over.

Coat the top with olive oil.

Place the pan in the air fryer basket and cook for 25 minutes.

Once nice and brown, remove and let stand for 10 minutes before serving.
Notes
Preheat the air fryer before adding the meatloaf
Use a high quality ground beef, 80/20 lean-to-fat ratio, for the best and juiciest taste
Substitute Panko for the regular breadcrumbs
Sauté the chopped onion in a small amount of butter before adding for a milder onion taste
Don't over mix the meat, just mix until the ingredients are combined
Have a meat thermometer ready, beef must reach 165 degrees and air fryers can vary. Check during the cooking process to make sure meatloaf doesn't overcook. Add more time if needed.
Rest the meat before slicing or it may fall apart
Leftovers will store well in an air-sealed container in the refrigerator for up to 4 days
Reheats quickly in the microwave
Nutrition
Nutrition Facts
Air Fryer Meatloaf
Amount per Serving
% Daily Value*
* Percent Daily Values are based on a 2000 calorie diet.