Okay, maybe you don't need directions on how to make a sandwich, but we just thought we would give you outline on how we do our grilled cheese in our air fryer. Plus, you can see a list of 50 ideas for a more complex grilled cheese. If you have any of your own ideas, please share them in the comments.
Why we think these sandwiches are so good!
The bread gets just as wonderfully toasty and buttery in the air fryer, so you can forget the skillet
It's such a quick and filling meal and even kids can make it, so that's a plus! Kids don't have to turn on the gas stove, they just add the sandwich to the basket and go!
Choose a combination of your favorite melting cheeses for best results.
Ingredients needed for air fried grilled cheese:
Bread-use your favorite bread, like sourdough, French bread, or just white or wheat sandwich bread. All are great, it depends on your personal preference.
Butter-or margarine or even a light spray of olive oil if you are counting calories.
Cheese-we like cheddar and mozzarella cheeses because they go well together. Also, cheeses that melt well like Provolone, Swiss, Gruyere or American are good choices. Sliced or shredded cheese are equally easy to use. If slicing off the block, make sure to slice the cheese thin. If it's too thick, it takes longer to melt.
How to make air fryer grilled cheese sandwiches
Preheat the air fryer to 360 degrees F.
Butter one side only of each slice of bread with softened butter and place cheeses between the slices of bread. Butter is on the outside of each slice.
Place the sandwich in the air fryer and cook for 8 minutes, flipping the sandwich halfway through.
Serve warm and enjoy.
Top Tips for a perfect air fryer grilled cheese sandwich
Don't forget to preheat your air fryer first. Keep in mind air fryers can cook differently, so check the sandwich often to make sure it doesn't burn.
If your bread slices are really thin, the air fryer will blow the top piece of bread off the sandwich. Try using toothpicks to hold the top slice of bread in place during air frying.
Try adding bacon and even mustard to the sandwich.
Don't overcrowd your basket, but two sandwiches can usually fit.
You can always reduce calories and/or fat content of the butter by replacing it with a light spray of olive oil.
Try different types of breads and cheeses until you find your favorite combination.
Try a sprinkle of granulated garlic or garlic salt on the cheese. You will love it!
Add a thin slice of ham and tomato to make it really special.
Some like to substitute mayonnaise for the butter for a delicious, crispy grilled cheese sandwich.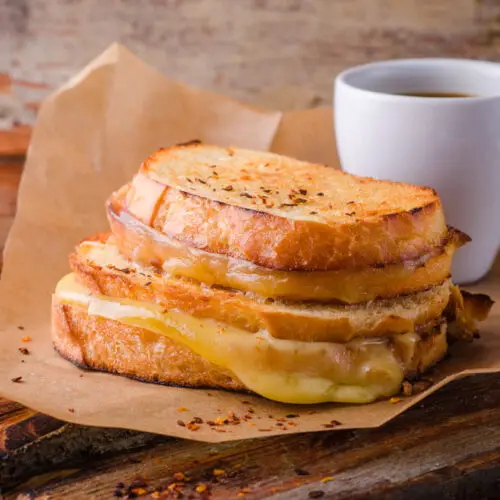 Air Fryer Grilled Cheese
We just love this quick and easy air fryer grilled cheese sandwich recipe. It's comfort food at its best. So much easier than pan frying, it tastes equally as toasty and delicious. It's easy to change things up in this recipe, so you can make it taste differently every time depending on the cheese you choose!  If you keep your air fryer readily available on the counter, it's easy for kids to make safely too.  That's a win-win!
Ingredients  
2

slices of

your favorite Bread

2

slices of

Cheddar Cheese

1

oz

Mozzarella Cheese

shreaded

2

tsp

Butter
Instructions 
Preheat your air fryer to 360°F

Butter one side of each slice of bread

Place the cheeses between bread slices (butter should be on outside)

Place in air fryer and cook for 8 minutes, turn half way through
Nutrition
Nutrition Facts
Air Fryer Grilled Cheese
Amount per Serving
% Daily Value*
* Percent Daily Values are based on a 2000 calorie diet.