Air Fryer Southern Fried Catfish is just too good to ignore even if you don't think you are the catfish lover! The crunchy outside and tender, flaky meat on the inside is a hit and takes less than 30 minutes to prepare and cook.
Is catfish healthy?
Catfish is low in calories and filled with lots of healthy nutrients, vitamins and minerals, such as heart healthy omega-3 fatty acids and vitamin B12. Eating air fried, baked, or broiled catfish regularly can help promote overall good health. Deep-frying adds far more calories from added oil than air frying methods which add only a very small amount of oil.
According to the Texas Agricultural Extension Service, a farm-raised catfish is a clean and safe source of protein. The taste of farm-raised catfish is consistently mild and does not have that muddy taste that wild-caught catfish sometimes has. Our recipe calls for soaking the catfish in milk, which will take away most, if not all, of the muddy or fishy taste.
Step by step instructions for Air Fryer Southern Fried Catfish:
Pour whole milk over the catfish in a flat container.
Squeeze 2 teaspoons of fresh lemon juice into the milk.
Let the fillets soak for at least 15 minutes in the refrigerator.
In a different bowl combine all the cornbread seasoning ingredients together.
Preheat the air fryer to 400 degrees F.
Remove the catfish fillets from milk and pat them dry.
Spread mustard all over the fillets and dip each into the cornbread mixture to make a thick coating.
Please don't skip the mustard.
Spray the air fryer basket with oil and place the catfish in the basket.
Spray the catfish with oil.
Cook at 400 degrees F for 15 minutes total, flipping once in the middle of cooking and spray again with oil after flipping.
Sprinkle with parsley before serving and garnish with lemon wedges.
Enjoy!
Why do you soak catfish in milk before frying?
Catfish is typically soaked in milk or buttermilk to get rid of the muddy or fishy flavor. Farmed-raised catfish is less likely to have a muddy flavor than wild-caught catfish.
Why we love this air fryer catfish recipe:
It's super easy to make this classic southern comfort dish in the air fryer.
Catfish is healthy and a good protein source.
The kitchen won't smell of deep-fried fish.
Cooking catfish in the air fryer gives you all the crispiness with less fat and less cleanup than traditional deep-frying.
What temp do you use to cook catfish in an air fryer?
Cook catfish in the air fryer at 400 degrees F for 13-15 minutes total.
How do you know when catfish is done?
Air fryer southern fried catfish is done when the meat is opaque and flaky, and the crust is golden brown. The internal temp of a catfish fillet should be 145 degrees F. with a meat thermometer. When cooked at a high temp for 13-15 minutes total, it should be done and ready to enjoy. Please note that air fryers sometimes cook differently so check the catfish fillets when you are ready to flip them over. You may need to add or subtract time accordingly.
Does catfish stay tender when cooked in an air fryer?
When cooked at a high temperature for 15 minutes in an air fryer, catfish will stay tender and flaky.
Can you use frozen catfish to cook in an air fryer?
Ideally it is best to use fresh catfish and soaked in milk to remove the muddy taste. If the fillet is frozen if will not soak up the milk. There is also moisture in frozen fish so it is best to thaw the fish and pat dry before soaking in milk.
Is it safe to eat raw or undercooked catfish?
It is never recommended or safe to eat raw or undercooked catfish. Wild-caught catfish are at risk of being contaminated from parasites if it comes from polluted water. Toxins in seafood cannot be smelled or tasted, but foodborne illness can result in vomiting, diarrhea, and abdominal pain. The internal temperature of a catfish fillet should be 145 degrees F to be considered safe to eat. Read more at the USDA website. 
Can you freeze catfish before cooking them in an air fryer?
You may freeze the breaded catfish before air frying them if needed. Place them in a single layer on parchment paper and covered until frozen completely, then place the catfish fillets in a freezer bag until you are ready to air fry them. Thaw completely to room temp before cooking in the air fryer.
How long can you safely store air fryer catfish after cooking?
In an airtight container, air fryer catfish will stay fresh in the refrigerator for 2-3 days. Leftover air fryer catfish may lose some of its crispiness. According to the USDA, you can store cooked fish in the refrigerator for 3-4 days.
How do you reheat air fryer catfish in an air fryer?
Air fryer catfish can be reheated in the air fryer for about 5 minutes at 400 degrees F. If it is not hot enough, add 2 minutes to your cooking time. Don't be tempted to use a microwave, as it will dry out the tender, flaky catfish and the house will smell like fish.
Tips to making great Air Fryer Southern Fried Catfish in an air fryer:
Cooking time may vary slightly based on the air fryer brand you use and how crunchy you like your catfish. You may need to add a few minutes to your total cooking time.
Don't stack the catfish fillets in the air fryer basket and try not to overcrowd. Cook in batches if needed.
Spray the air fryer basket well with oil to keep the catfish from sticking.
Catfish is delicate white meat, so a fish spatula works well for turning the fish over during cooking.
To make sure the breading sticks to the catfish, place the fish on parchment paper in the refrigerator for about 10 minutes before breading with cornmeal seasoning.
Add a little Panko to the cornmeal breading for extra crispiness.
You can substitute tilapia or cod in this recipe if desired. You can also use catfish nuggets instead of fillets.
What sides go well with southern fried catfish?
Almost all southern food goes well with catfish, including hushpuppies, fried okra, French fries, coleslaw, green beans, mac 'n cheese, and potato salad. Don't forget the tartar sauce, you will want lots of it.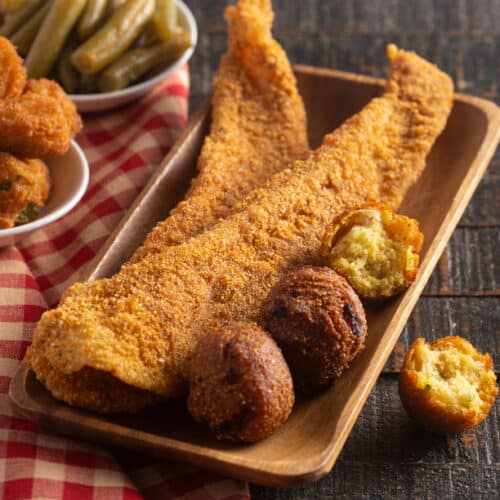 Air Fryer Southern Catfish
Southern fried catfish is a classic tradition in the south. If you like seafood you will love these crunchy catfish fillets soaked in homemade buttermilk and seasoned with cornmeal breading. Catfish is a mild, white fish with tender, flaky meat and so easy to make in the air fryer in less than 30 minutes.  
Ingredients  
2

pounds

Catfish Fillets

1

cup

Milk

1

Lemon

½

cup

Yellow Mustard
Cornmeal Seasoning Mix
½

cup

Cornmeal

¼

cup

Flour

All Purpose

2

tbsp

Parsley Flakes

Dried

½

tsp

Salt

Kosher

¼

tsp

Black Pepper

Freshly Ground

¼

tsp

Chili Powder

¼

tsp

Garlic Powder

¼

tsp

Onion Powder

¼

tsp

Cayenne Pepper

Olive oil spray
Instructions 
Place catfish into a shallow pan and add milk.

Cut Lemon in half and squeeze about two teaspoons of juice into milk.

Place shallow pan with milk and catfish in refrigerator and let soak for 15 - 30 minutes.

In a shallow bowl, combine cornmeal seasoning Ingredients.

Remove catfish from milk and pat dry with paper towels.

Spread mustard generously over both sides of catfish fillets.

Dip each catfish fillet into cornmeal mixture and coat well.

Spray oil into air fryer basket.

Place catfish fillets into air fryer basket. Spray tops with more oil.

Air fry at 400°F for 10 minutes. Flip catfish fillets, spray with oil, and air fry an additional 3-5 minutes.

Garnish with lemon wedges and sprinkle with parsley when serving.
Nutrition
Nutrition Facts
Air Fryer Southern Catfish
Amount per Serving
% Daily Value*
* Percent Daily Values are based on a 2000 calorie diet.