Mornings can be rushed with work and school, so these must-try egg and bacon cups use simple ingredients that you may already have on hand. They are so simple to whisk up, pour into your bacon-lined ramekin cups, set your air fryer, and your delicious KETO and low-carb breakfast will be ready in 15 minutes.
What is a ramekin used for?
They may not seem like an essential kitchen equipment item, but a ramekin is a small round baking dish, and is surprisingly versatile. They are perfect for small portions of soup, desserts, pies and soufflés, or even serving nuts, dips, and small snacks. They are also perfect for measuring out your seasonings into one cup ahead of time. In this egg and bacon recipe, they make for a neat presentation for this delicious breakfast meal.
Why you'll love this recipe for egg and bacon cups
It's kid-friendly; kids love to make and eat them
Air fryer cooking of this breakfast recipe is so much less mess than traditional cooking
It's a great bacon and egg breakfast all in one bite
You can add or change your seasonings each time you make it
It's KETO, low-carb, and high protein, these breakfast cups fill you up and are very satisfying
Make it and take it with you for your "on the go" breakfast
Equipment needed for egg and bacon cups
4 ramekins
Air fryer
Mixing bowl
Ingredients needed for egg and bacon cups
Bacon-a thinner cut is better since it crisps up quickly in the air fryer
Eggs-large and fresh
Dill, paprika, salt and pepper flakes
Butter
How do you cook Egg and Bacon Cups in an air fryer?
As you get started, preheat your air fryer to 360 degrees F.
Whisk the eggs in the mixing bowl.
Add salt, dill, paprika, and mix well.
Spread your 4 ramekins with butter and line with bacon strips into a cup shape.
Pour the egg mixture into the bacon-lined ramekins and sprinkle pepper flakes on top.
Cook for 15 minutes at 360 degrees F. in the air fryer, for 15 minutes.
What temperature do you use to cook egg and bacon cups in an air fryer?
Egg and bacon cups cook best at 360 degrees F in the air fryer.
Can I use silicone cups in an air fryer?
Yes, anything that is ovenproof can be used in the air fryer. It can be glass, ceramic, metal, or silicone.
How do you know when the egg and bacon cups are done?
The eggs will not "jiggle" and will appear set when the cups are done. The bacon will appear browned and crispy.
How do I get the bacon more crispy?
Simply pre-cook the bacon to medium-rare, but still floppy in order to line the ramekins. You may line the outer basket of the air fryer in foil to catch the dripping of the bacon if you want to cook it to medium-rare right there in the air fryer ahead of time.
Can I use regular eggs instead of scrambled eggs in this recipe?
Yes, you do not have to whisk the eggs prior to cooking. Just crack one egg into each of the 4 bacon-lined ramekins and add the seasonings and cook.
Can I store and/or freeze my cooked egg and bacon cups?
I recommend eating the baked egg and bacon cups while hot and fresh as they are much better when fresh. You can refrigerate them, if needed, in an air-tight container for 2-3 days and reheat in the microwave or air fryer. Freezing, though, is not recommend due to the texture of eggs.
What sides go well with egg and bacon cups?
This is a small meal in itself but other breakfast items make it even more satisfying. Add granola, fruit, and toast to complete this breakfast meal. Don't forget the orange juice.
Tips to making great egg and bacon cups in an air fryer:
Watch the eggs closely in the air fryer so they don't burn. Some air fryers cook hotter and quicker than other air fryers.
For crispier bacon, pre-cook the bacon to medium-rare but still floppy
You can use a muffin tin for this recipe if you don't have 4 ramekins. Just make sure it fits easily in your air fryer basket.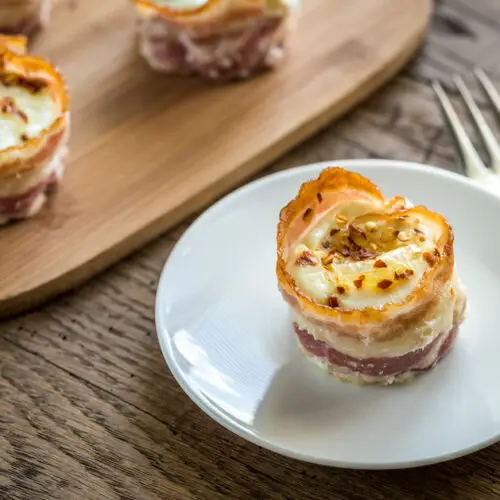 Air Fryer Egg and Bacon Cups
This quick and delicious recipe for air fryer egg and bacon cups makes a great bite-sized hearty breakfast. It's a healthy grab 'n go breakfast meal that the whole family will enjoy.  There is nothing better than a homemade, KETO and low-carb breakfast. These egg and bacon cups will get your day off to a great start!
Ingredients  
4

eggs

6

oz

bacon

½

tsp

dill

dried

½

tsp

paprika

1

tbsp

butter

salted

¼

tsp

salt

½

tsp

pepper flakes
Instructions 
Preheat your air fryer to 360°F

In a mixing bowl beat the eggs

Add salt, dill, and paprika, and mix together well

Spread 4 ramekins with butter

Use the bacon to line the ramekins in a cup shape

Pour the egg mix into the bacon cup ramekins

Sprinkle pepper flakes on top

Put the ramekins into your air fryer and cook for 15 minutes at 360°F
Notes
Lots of variations are good with this recipe
Add a little grated cheese to the bottom of each cup before adding the eggs.
Use your favorite seasoning blends. It's all in your personal preference.
Substitute thin strips of ham, turkey bacon, or Canadian bacon in place of bacon.
Try adding tiny bits of diced peppers, onions, tomatoes or mushrooms to the cup for more nutrients.
Good toppings to add are salsa, sour cream, avocado, or tomato slices.
Nutrition
Nutrition Facts
Air Fryer Egg and Bacon Cups
Amount per Serving
% Daily Value*
* Percent Daily Values are based on a 2000 calorie diet.