We have compiled a list of our favorite air fryer chicken wings recipes. Chicken wings is one of the dishes where the benefits of using an air fryer are made obvious, more taste, less fat.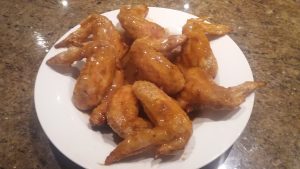 These are our take on buffalo style chicken wings. Whilst not following a totally traditional recipe, we enjoy the sweetness and hotness of the sauce, and  of course the ease of making such a dish in the air fryer.
Ingredients
1 kilogram Chicken Wings
1/2 cup Jimmy's Steak Sauce (South African)
1/2 cup Butter
1 1/2 tablespoons Worcestershire Sauce
1/2 tablespoon cayenne pepper
1 tablespoon Tabasco sauce
See the instructions here:
https://www.airfryerrecipes.com/cookbook/recipe/air-fryer-buffalo-style-chicken-wings/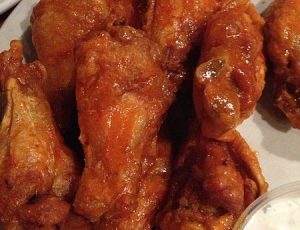 A dish that easily adaptable with any choice of sauce you like to serve with crispy chicken wings. For our crispy BBQ wings we have used a store bought sauce for ease and speed. This is a great snack to have while watching some TV.
Ingredients
2 pounds chicken wings
1/2 cup BBQ sauce
Simple, see how here:
https://www.airfryerrecipes.com/cookbook/recipe/air-fryer-crispy-bbq-wings/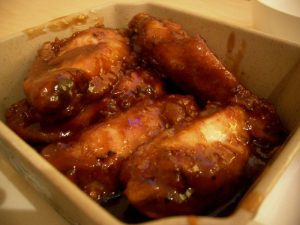 Ingredients
16 chicken wings
2 tablespoons light soya sauce
2 tablespoons good quality honey
1/2 teaspoon sea salt
1/4 teaspoon white pepper powder
1/2 crush black pepper
2 tablespoons lime juice
Here's how to cook these:
https://www.airfryerrecipes.com/cookbook/recipe/2550/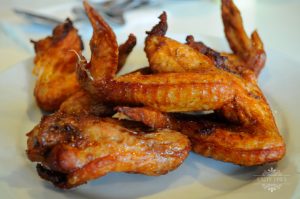 Some simple directions on how to make yourself (am your friends) a quick, delicious snack from frozen chicken wings. Frozen wings, from freezer to air fryer
Ingredients
Frozen chicken wings
Sauce of you choice
Check it out here:
https://www.airfryerrecipes.com/cookbook/recipe/frozen-chicken-wings-in-the-air-fryer/