Air Fryer Potatoes Au Gratin is a classic comfort food perfect as a side dish served at a holiday dinner. It's full of cheesy flavor. This recipe has been adapted for the air fryer, making it a quick and tasty side dish for any dinner. Thinly-sliced potatoes are covered in a creamy mixture of eggs, cream and cheese. It would take an hour when baked in the oven, but only 30 minutes total prep and cook time in the air fryer.
Why we think you will LOVE this air fryer potatoes au gratin recipe!
It's quick, easy, and delicious
You probably have all the ingredients already
You can make it ahead of time and is easily reheated. Just let it cool to room temp and keep it covered and refrigerated for up to 3-4 days
It's comfort food
It's cheesy and flavorful
It's a family favorite
What does au gratin mean?
The phrase au gratin literally means 'by grating" in French. The crusty top of the dish is often achieved by adding grated cheese and/or breadcrumbs.
What you'll need to make air fryer potatoes au gratin:
Air fryer
Mandoline (also spelled mandolin)-it is the perfect tool for slicing the potatoes very thin and in a consistent width. Mandolines save a lot of time.
Individual air fryer safe containers-ceramic, glass or silicone
Ingredients and some variations to try:
Potatoes: Red-skinned or Yukon Gold potatoes have thin skin so no peeling is necessary. These waxy potatoes hold their shape well. Sweet potatoes can be used in combination with other potatoes for a colorful combination. Russet (or baking) potatoes are more starchy and do not hold their shape as well and the dish may become mushy. Russet potatoes are not recommended for this dish.
Cheese: Sharp cheddar cheese works well in potatoes au gratin, either extra sharp or white cheddar. Gruyere is a traditional cheese to use and can be substituted instead of cheddar. Mozzarella, Colby Jack, Gouda, or Fontina can also be used. We recommend shredding the cheese from a block instead of using pre-shredded cheese for the cheesiest results.
Other ingredients needed are eggs, cream, and flour
How to make Quick Air Fryer Potatoes Au Gratin
PREHEAT the air fryer to 360°F
CUT THE POTATOES with skin on to very thin slices using a mandolin and cook in the air fryer basket for 10 minutes.
MIX the eggs, cream and flour into a thick and smooth mixture.
LINE THE CRISPY POTATOES in the bottom of your air fryer safe cups and cover with the cream mixture.
SPRINKLE WITH CHEESE and bake for 10 more minutes at 390°F.
How do you know when the air fryer au gratin potatoes are done?
When you are have finished cooking the potatoes according to the recipe at 390°F, if a fork pokes easily and softly into the potatoes, they are done. If cut too thick, they may require extra time in the air fryer.
What is the difference between scalloped potatoes and au gratin potatoes?
It's all about the cheese. Both dishes are made with thinly-sliced potatoes and cream or milk. But au gratin potatoes have shredded cheese either between layers or on top which forms its tasty crust. Scalloped potatoes generally don't have cheese and are much simpler to make. Some call au gratin potatoes cheesy scalloped potatoes.
How to store air fryer potatoes au gratin:
Refrigerator-Wrap each individual dish tightly in foil or plastic wrap. It can be stored up to about 3 days without losing its flavorful taste.
Freezer-you can store it longer in the freezer. Use the container it was cooked in or transfer to an airtight food container, cool to room temp, and store in the freezer until you are ready to warm up.
How do you reheat air fryer potatoes au gratin?
If you have any leftovers there are several ways to reheat.
AIR FRYER-Preheat to 325°F, then heat the leftover potatoes for about 10 minutes. If it is not warm enough, heat for 2-3 more minutes.
OVEN-cover the potatoes with foil and cook for 20-25 minutes.
MICROWAVE-put the leftover potatoes in a microwave-safe dish and cover with plastic wrap. Heat for a minute. You will not get that delicious, crispy top in a microwave, though.
What if the potatoes au gratin come out watery?
If you stored your sliced potatoes in water to prevent them from discoloring, drain them well and pat them dry before starting to bake them in the air fryer. If not, you may have added extra water to the dish and they may come out watery.
Why are potatoes au gratin sometimes called "funeral potatoes"?
Funeral potatoes get their unique name from being a crowd-pleasing casserole dish associated with comfort and family. It is commonly served as a side dish at luncheons after funerals. Actually potatoes au gratin can be served as a casserole dish and is easily prepared ahead of time and taken to any group setting. It's a popular dish in the midwest.
What to serve air fryer potatoes au gratin with:
TOP TIPS for perfect and quick potatoes au gratin:
Use a mandolin for perfectly thin and consistently sliced potatoes
Use air fryer safe dishes for individual servings. Glass, ceramic, or silicone containers work well. 1 cup Pyrex glass containers come with a lid for easy storage and will work perfectly.
Add fresh, minced garlic to the sliced potatoes
Add onions to the cream mixture
Add Panko or breadcrumbs on top for a crispy topping
Add salt and pepper to this recipe
Peel your potatoes if you prefer
If making ahead, don't slice the potatoes too far ahead of time, as they will start to brown
Sprinkle a handful of parmesan cheese on top before baking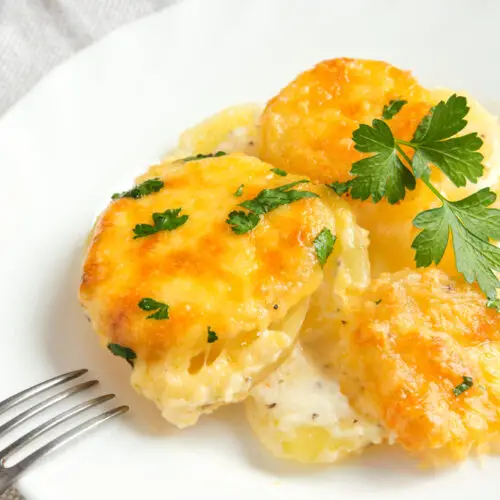 Quick Air Fryer Potatoes Au Gratin
Who doesn't love cheesy, creamy Quick Air Fryer Potatoes Au Gratin? This side dish is a classic comfort food and can be served at holiday dinners or at weekly suppers alike. It's quick, easy, and delicious and can be ready to serve in 30 minutes. No need to heat up the oven, the air fryer can do it all!
Ingredients  
2

Potatoes

Large

2

eggs

beaten

½

cup

cream

1

tbsp

flour

plain

1¾

oz

cheese

cheddar
Instructions 
Preheat your air fryer to 360°F

Cut the potatoes, with their skin still on, into real thin slices

Place them in the air fryer basket and cook for 10 minutes

While they are cooking, mix together two eggs, cream and flour until they are of a thick, smooth consistency

Use the now crispy potatoes and line the bottom of your dish(es)

Cover with the cream mixture, sprinkle cheese and cook for a further 10 minutes on 390°F

Serve as a delicious side